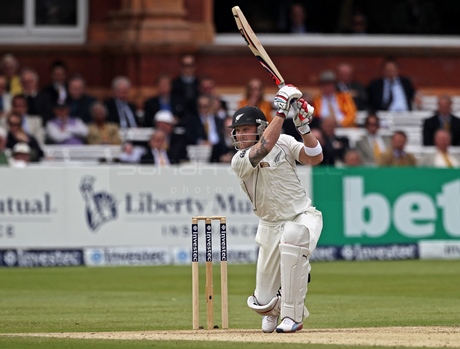 Believe it or not, batting with positive intent isn't actually a new invention. In the hundred-and-odd years of Test cricket, people did actually try it from time to time before now. Mostly they got out.
New Zealand were heavily beaten in the first Test against Australia and when Brendon McCullum arrived at the crease in the second they had lost three wickets for 32 runs. It was doing a bit.
At this point, McCullum had three possible options:
Get out immediately
Deadbat for a bit and then get out
Try and counterattack but get out
Saint Brendon yawned, stretched, rubbed the sleep from his scarred eye and instead walloped the fastest ever Test hundred. Like most of its creator's best works, the innings was brilliant with unmistakeably rough edges. It was jousey, spawny, flukey genius.
McCullum has never been the best batsman in the world – he may never even have been the best batsman in the New Zealand team. However, in the last few years, he has unquestionably been the most exciting; the man who makes you think something is happening.
McCullum is a guy who sears his innings into people's minds. His worst is atrocious, his middle ground pretty pathetic, but his best is quite simply better than anyone else's best. His best leaves you not quite able to assess what's just happened because you've never visited this place before.
Most batsmen would never even attempt to do what he does. A select few try and fail. Only McCullum has the gall to both try and succeed.
Shortly afterwards, New Zealand's captain completed his final three-pronged lesson. An aggressive approach to batting has nothing to do with any other form of hostility; self confidence can be combined with self deprecation; humility is not a sign of weakness.
When did you think it might be your day, Brendon?
"Probably second ball when I had an almighty, filthy slog and it went over the slips cordon for four."
And how do you feel about breaking Viv Richards' record?
"I'm almost a bit embarrassed to go past him, to be honest. Hopefully he enjoyed a bit of the 'stroke-making', we'll call it."
This is McCullum's final Test match. He wants the win. There can't be many cricket fans who aren't of a similar mind.