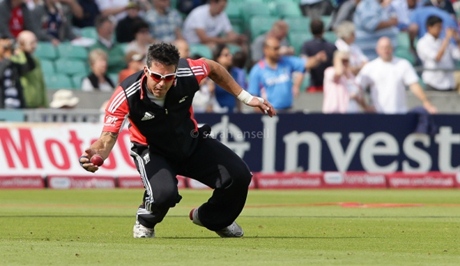 With his finishing school posture and his languid prancing, Kevin Pietersen always looks fine when he's ambling around the outfield. But who knows what's going on inside those 30-something limbs?
Maybe he's got age-related shitty knee. You need to rest your stupid, failing joints for longer as you get older. That's far from easy in the modern cricket world, as we said yesterday.
Every time Pietersen makes a reference to a 1980s TV programme in the changing rooms, he'll be reminded that he's surrounded by a bunch of idiotic slavering bairns. This will be all the more apparent when it's one of the two pyjama teams. 'Sod this,' he's clearly thought. 'I'd be better off spending my time popping ibuprofen and watching The Fall Guy on my settee.'
But how do the fans feel about this? Well, if we're in any way representative, they'll be largely unarsed. The Twenty20 World Cup's semi-important, but he's already won us one of those. The World Cup's fully important, but won't take place for a few years. Everything else is neither here nor there.
If we were him, we'd approach this Pakistan-style. We'd return to one-day internationals a few months before the next World Cup. What's he going to learn before then anyway? Nowt. Plus it gives England a chance to try out a few more middle-order batsmen. Once we've concluded that they're crap, KP will be welcomed back with open arms.