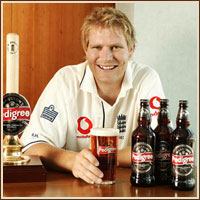 Matthew Hoggard smashed someone's box!
That really doesn't bear thinking about. What are the chances that the delivery was precisely quick enough to smash a box but not quick enough to do any further harm? The chances of that are nil.
Thankfully, we haven't actually seen this. The BBC say that he 'shattered' Michael Carberry's box. Surely these things shouldn't shatter under any amount of impact. They should be made out of the same stuff they make tanks out of.
That word again: 'shattered'. Conjures images of hundreds of spiky shards, doesn't it? No wonder Hampshire's first six wickets fell to The Yeoman. Everyone was bricking it.