2
minute read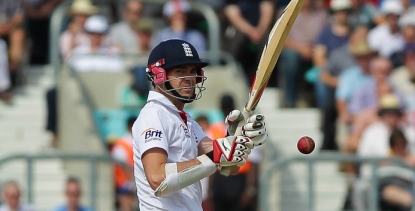 The final pole was taken with just a cherry to spare. But just as a snatched draw wouldn't have erased England's shoddy cricket from the previous day, so falling short shouldn't negate the efforts of Moeen Ali and Jimmy Anderson. Jimmy was basically in tears when Mike Atherton tried to interview him afterwards, but he can comfort himself with the fact that most of us will remember his efforts just as fondly as if he'd seen the job out. Sometimes it's about how you lose.
Jimmy played 55 balls in making the best duck we've ever seen. Moeen Ali played 281 and hit a hundred in the process. As first Test hundreds go, it was just about as good as you get.
Moeen batted proactively to lubricate a partnership with Joe Root that would otherwise have seized up, he marshalled the tail and he did it all with such profound unarsedness that you can't imagine he's ever been nervous about a single thing in his entire life. To take England from where they were in the morning to within two balls of a draw was immense. If you were wondering how he might respond to pressure, this provided a pretty clear answer.
The finish
It's hugely annoying when people describe cricket in football terms, but in this instance it's instructive (and also pertinent being as the action played out concurrently with a deathly dull World Cup match).
In football terms, the situation was this. There were going to be 60 more shots on your team's goal, they had an outfielder between the sticks and if they conceded even once, it was 10 days' play and 10 days' efforts flushed down the khazi.
That puts the tension in perspective. In short, it simply could not have come about in 'the beautiful game'. You might get 10 minutes of tension in football. In cricket, you can get an hour or more. As the minutes tick by, it becomes more and more intense until you start wondering whether it's even safe to watch; whether there might actually be a physical risk to subjecting yourself to this.
Your hopes could be dashed by any delivery and being as number 11 will always be at the crease in these situations, the fragility of it all is even more pronounced. There are no short cuts to these sorts of finishes and that is precisely why Test cricket can never die.