Royal Cricket (no relation) visited Canterbury to ignore the North Gear Premier League Twenty20 Grand Final. They say this:
Our mate Paul Hibberd's younger brother, James, was playing, so we didn't ignore him but we did spend lots of time ignoring the cricket and looking at the cameras to make sure we got on the telly.
In the bits we saw, James was legendary. We were surprised, but then we picked up why this was so. Early on, Paul had met Rob Key. During the meeting, as you can see from this picture, Rob's power surged from Rob to Paul – you can tell from the way that Paul's hair has stuck out at the side.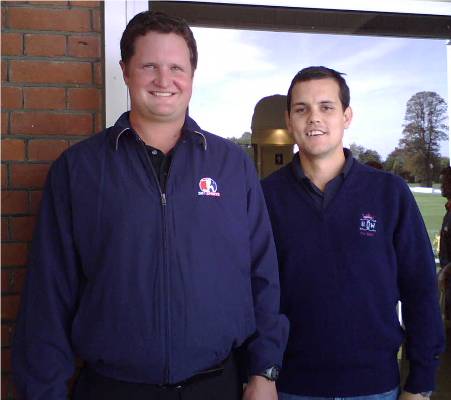 This proved to be the decisive factor because when Paul stood near his brother afterwards, the power of Rob Key surged onwards to James. James then went on to pick up the man of the match award in the semi-final and take 2-15 in the final as Totton and Eling Eels defeated Ockbrook and Borrowash Devils.
We got on the telly in our club shirts too. Which made us laugh. Actually that might have been the many pints of Shepherd Neame Masterbrew that we drank.