2
minute read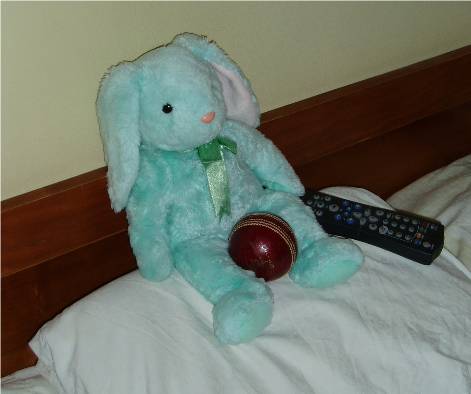 Somewhat surprisingly, Hippity the Green Bunny writes:
I knew that daddy had planned a trip to Lord's today with one of his friends from work, Uncail Marcas, so I devised a cunning plan. I'd jump into daddy's picnic bag while he wasn't looking and cadge a ride to HQ. I hadn't worked out how I'd get home, but I knew I'd find a way.
Daddy was paged by Uncail Marcas soon after we arrived, so I could climb out of the bag and secrete myself out of sight while they were busy doing their meet and greet bit.
Daddy expounded about net run rates in enormous detail to Uncail Marcas, as it transpired that the whole tournament might hinge on that aspect of this game. Daddy had even brought a slide rule for Uncail Marcas to use. Typical daddy that – toss out the theories like so much confetti and then get people like Uncail Marcas to do the actual work. It sounded like bunkum to me, but people sitting around daddy and Uncail Marcas started to say "oooh" and "aaahhh" and then they all moved away, presumably to go tell their friends what was going on.
Soon daddy and Uncail Marcas got tired of all that and got hungry instead, so they started tucking into their lunch. Smoked salmon bagels, mini pork pies, cashew nuts, apples, pears, tomatoes, ham and cheese bagels, some big cookies and fine wines for good measure. Daddy was proudly telling Uncail Marcas that he had chosen some food from each nation represented today; pears from Holland, apples from South Africa and wine from New Zealand. "What about Pakistan?" asked Uncail Marcas, rather ungratefully. "Tough assignment, comestibles from Pakistan," said daddy. "It's possible that some of the cashews come from there, as they don't own up to their country of origin".
Later, while Uncail Marcas and daddy were debating the best way for Uncail Marcas to get to the railway station, I spotted my chance to jump back into the picnic bag for a ride home.
On the bumpy ride home, I was trying to work out how to get use of the computer (which I am not normally allowed) to write up this report for you, but I needn't have worried. Daddy was drunk as a skunk and has passed out on the bed as usual.