2
minute read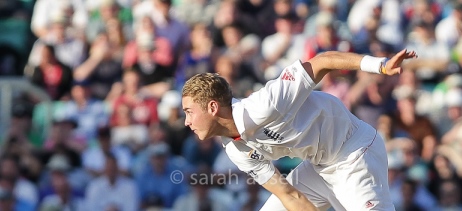 There have been a few stats of late about James Anderson and Stuart Broad as a bowling partnership. Something about lots of wickets. We forget how many.
On paper, they're a wonderfully complementary duo. One's a devious swing bowler; the other's rangly and hits the deck hard (a phrase which sounds to us more like the individual in question isn't particularly handy in a fight). It's like having Ian Botham and Curtly Ambrose in your team. You've got all scenarios covered.
Except it doesn't work like that. It doesn't work like that at all.
Who is Stuart Broad?
Stuart Broad is James Anderson. He's James Anderson a bit back, but make no mistake, that's who he is. He rushes in, lets fly some away swing and wickets ensue. What he doesn't do is bowl anything like the man he said he wanted to bowl like round about the time he came into the England side. Glenn McGrath he is not.
Does it matter?
Well, to paraphrase a generic England cricketer – he is who he is. There's no changing that. It's odd that he somehow always seems to bowl like a much smaller man, but it isn't necessarily a bad thing so long as he bowls well.
If there is an issue, it's that thing we mentioned before about covering all scenarios. Faux James Anderson doesn't so much complement Real James Anderson as compound him. When the ball swings – hey-hey, we're quids in! When it doesn't, you've got all your new balls in one box.
Today it swung.