1
minute read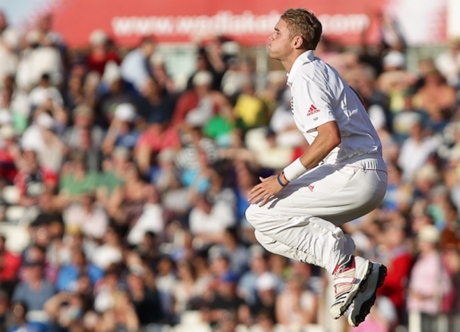 Yesterday, we said that England needed to take wickets quickly. They did. How did they achieve this? Well, actually, we're not sure they had all that much to do with it.
It was almost like South Africa had exhausted their collective mental reserves; like much of the side's patience and self-control had been frittered away during their 637-2 in the first Test. A bit of fortune, a dodgy decision, the odd good delivery and England are in a reasonable position.
Anderson was very good, as you'd expect. Finn was hit and miss, as you'd expect. Swann hung in there. But what of Broad? He seems to have become a lolloping and ineffectual medium-pacer. Nowt wrong with a bit of medium-pace, as long as that's why they hired you, but '76mph dobblage' isn't on Broad's CV.
Always be wary of guns – even cricket's speed guns. Most bowlers' speeds have been lower in this series than in some others. The data is probably accurate for once. This in itself is of no concern, but what is striking is that Broad seems to be bowling significantly slower than James Anderson. It used to be the other way round.
As we always say: speed isn't everything, but it is something. The usual explanations have been trotted out: bowling for swing, loss of rhythm, a niggle. It doesn't really matter. What matters is that Broad looked the least threatening quarter of England's bowling attack.