2
minute read
Or at least last week's Stuart Broad has. Everyone get their stuff so we can move somewhere else lest he returns and finds us again.
We did suggest in the comments to that piece that the real Slim Stuart might again stand up. He had bowled a handful of quicker balls in the first Test which at least hinted that he was still capable of such a thing. It was just that he couldn't maintain it.
On day two of the second Test, things picked up a bit. Broad bowled pretty quickly and lo, he suddenly started taking wickets. People can get a bit 'it's what you do with it that counts' about bowling speed, but as we always say: pace isn't everything, but it is something.
Look at the chart below and it's fairly obvious where day two begins.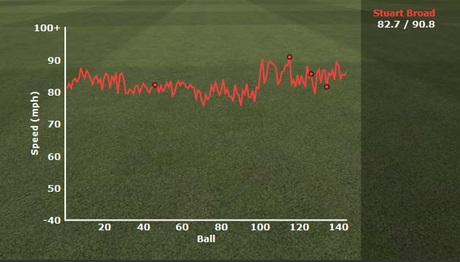 There's a lot of talk about resting quicker bowlers these days. That makes sense because in general that's what they need. Bowling builds fatigue and international bowlers bowl a hell of a lot.
However, bowling also, in parallel, builds fitness, and so what the bowler actually delivers is based on the relationship between those two things. Broad, having been injured, hasn't actually had an enormous workload in recent times. He may not have missed any Test matches, but he's missed one-day series and been out of the nets. We're therefore hopeful that he'll return to his best as fitness builds without being negated by too much fatigue. For a short time yesterday, he was decent.
Broad himself believes that going a bit wider on the crease helped him bowl quicker, saying "it gave me momentum to drive my hips through."
Maybe that's true. Maybe it was going wider on the crease. Maybe he's gaining fitness as well. Maybe a different attitude helped liberate his body from tense, self-imposed shackles. Maybe the wind had changed. Whatever it was, he'll need it to continue because yesterday he looked good, whereas the day before he bowled like a rusty old robot snatched from a pie factory production line.