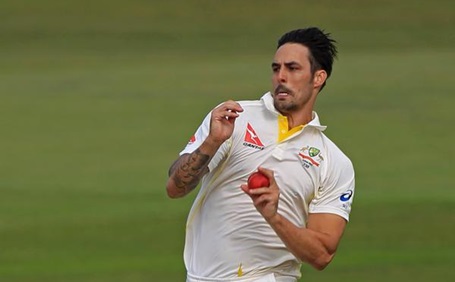 That sounds a little like a crude and edgy, deliberately controversial Off-Broadway show. But it isn't. It's a reference to the eldest Mitchell; the man who apparently compels English batsmen to dash their own brains out in fear.
Mitchell Johnson is currently the man with the fifth-best bowling average and strike-rate for Australia in this series. No-one likes facing him – that's fairly obvious – but we do rather feel that his impact is prone to being overstated. He's a very good bowler, he's done great things in the past, but it does sometimes feel like his performances get talked up as being earth-shattering even when he's taken 3-60.
Don't get us wrong, 3-60's good, but it's 'well bowled' good, not 'cower before me, mortals!' good. Johnson may also take 5-15 at some point, so why not save all the cooing and fawning for then?
"We're not going to cross the line, but we're going to go right up to it and I think there are a few scars there which might open up," said some fictional amalgam of the Australian team because we can't be bothered finding an actual quote about mental scars with which to make our point.
It's a peculiarly Australian obsession, mental scarring. Other nations rarely talk about it, but Johnson in particular seems to believe he's liable to open up scars in England's top order by dismissing Stuart Broad with a short ball. Maybe it's that psychological phenomenon where you project onto others the flaws you possess yourself, because surely if anyone's scarred by a northern hemisphere Ashes series, it's Johnson.
Or maybe it's just a fast bowler talking bollocks because the Ashes is a pantomime. Either way, it's a really tired thing to say and we're kind of sick of the self-aggrandising aspect of it.
Meanwhile, Mitchell Starc's bowling more rapidly and producing a greater number of unplayable deliveries, while Josh Hazlewood's plonking it on a length and getting more wickets than either of them.