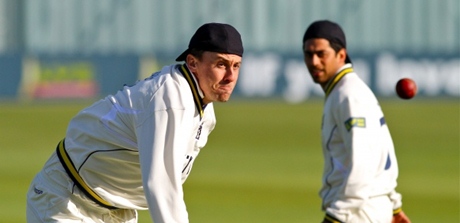 We're doing these county update posts for our benefit rather than yours. It's our way of keeping on top of things, because following county cricket is like trying to catch rain – you might get a handful, but you'll definitely miss most of it. People might also ask you why you're bothering.
For an example of how difficult it is to stay on top of things, we actually started writing a title about Nottinghamshire remaining top. They have two wins and a draw versus Warwickshire's two wins. However, we didn't bank on bonus points. We'll walk you through it. We'll walk ourself through it.
Nottinghamshire's crappy draw
The County Championship is like a contract for pretty much any form of modern technology. Something you'd think would be straightforward is actually spectacularly complicated. Unlike phones and TV and internet, the County Championship achieves this complexity via bonus points. Annoying as they are, they're pretty handy when there's rain around. Nottinghamshire drew with Somerset this week after being bowled out for 162 and conceding 445-2. As draws go, it was a pretty comprehensive defeat, which is why Somerset emerged with 11 points, whereas Nottinghamshire got only three.
Warwickshire's resounding win
Meanwhile, Lancashire were continuing to explore whether cricket teams actually need any batsmen. The answer is yes; yes they do. Warwickshire proved this by having two of their number score hundreds, even if one of them was batting at number nine. Bumped down a spot by the nightwatchman, Rikki Clarke hit 140, while Darren Maddy made 112 shortly after dismissing four of Lancashire's "batsmen".
Rikki Clarke is best known for his face and for being a hope-over-logic England all-rounder selection back in 2003. However, he's a cricketer to be respected these days, albeit largely for his increasingly impressive bowling. Warwickshire didn't need him to turn his arm over in Lancashire's second innings though. Not sure they even bothered bowling overarm.