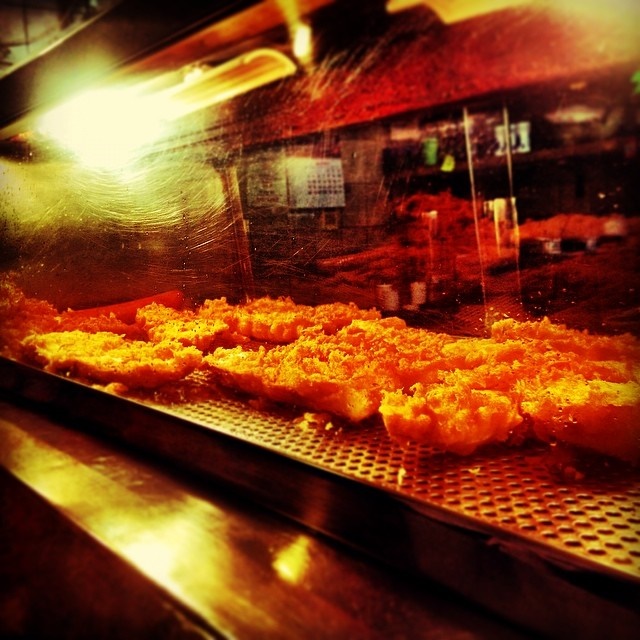 You're probably wondering why there's a photo of a load of fried fish awaiting a greedy human receptacle up there. We'll get to that. It won't take too long, but you'll have to be a little bit patient. Before we get to it, we want to talk about the nature of knowledge and also 18-year-old Prithvi Shaw's hundred on debut for India.
The way we manage knowledge over the course of our lives is that we start out with none and we build a foundation. First of all we prod things and push things and shout at things and see what they do and through this process we start to work out some of the rules of our environment. We then begin to stack up little information Lego blocks on top of these foundations, building our own personal tower of knowledge.
Some people find themselves focusing a lot on one particular area – say music or physics – and they build a big high tower that everyone else finds really impressive. Most of us take a broader approach, slapping blocks on here there and everywhere and never hitting the same heights.
At a certain point in life, we reach a critical mass where we can't really add more blocks without compromising the integrity of the structure. At this point our compulsion to add further blocks leads to other bits falling off and there's nothing you can do about that. The orderly acquisition of information is over. You've reached peak knowledge and all that changes is what that body of knowledge comprises.
Sometimes a new Lego block of information means you lose a block from somewhere else. Sometimes it's load-bearing and you lose a wall or a whole wing of the building. By the time you're properly old, nothing really links together any more – you're just mounds and mounds of random facts with nothing much linking it all together. This is when people generally become most interesting to talk to.
We found out a certain amount about Prithvi Shaw yesterday and we found out a bit more today. Lord knows what we've sacrificed for this, but it feels like there'll be a whole Prithvi Shaw section of Lego architecture in coming years, so we might as well go with it.
Let's start with today because what happened today is most relevant to his cricket career. Today Prithvi Shaw scored a debut Test hundred at a run a ball.
Today's stories are mostly about how he's only 18 and he's already scoring Test hundreds and isn't he the best thing ever. Either that or they're getting stuck into the backlash nice and early and saying it was a flat pitch and a relatively toothless attack and this doesn't prove anything.
Our take is that Shaw's been talked up ever since he made 546 off 330 balls in a schools match, so this innings hints that he can handle ludicrous expectations fairly well and this is very important. For obvious reasons most people don't get a chance to prove (or fail to prove) such a thing until they've played a great many Test matches.
Shaw also did some good batting and very little bad batting. We'd say today's information leaves us with a broadly positive view of his prospects as a Test cricketer. The story is very much 'to be continued' though. (And honestly, that is the best part of any story. That's when you're still intrigued and your mind's still trying to work things out.)
The knowledge we gained yesterday was different. Yesterday Prithvi Shaw hadn't played Test cricket so the main things we learned related to his dietary preferences.
Back when he was 12 or 13, Shaw spent a term at Cheadle Hulme School, which is two or three miles away from where we used to live. According to the Mail on Sunday, he had a decent time but didn't much like the food. The exception was fish and chips. (This is interesting to us because when we first went to India, we thought how mushy peas with salt and vinegar could pass as an Indian dish. Criminally, the Mail on Sunday neglects to report whether 'fish and chips' was in fact 'fish, chips and mushy peas' or even 'fish chips, mushy peas and gravy'. )
After we finished reading that article, we were very much left with the impression that fish and chips is 100 per cent Prithvi Shaw's favourite UK meal. We were therefore utterly taken aback when cricket writer Vithushan Ehantharajah retweeted a comment from a Ben Milligan earlier today, saying: "Lived with my family for two summers about 5 years ago. Big, big fan of salt and pepper chicken wings. Decent bat too."
So suddenly we have two Lego blocks of Prithvi Shaw dietary information to apply to our knowledge tower. This is gravely concerning because as established above, knowledge is power – and that power is the power to destroy great swathes of wholly unrelated knowledge.
The addition of two basically worthless nuggets of information (and let's be honest here, this is the exact kind of knowledge we do actually retain) therefore presents a significant threat to our person.
Our solution is that we are going to try and consolidate the two seemingly contradictory facts "Prithvi Shaw's favourite thing to eat in the UK is fish and chips" and "Prithvi Shaw's favourite thing to eat in the UK is salt and pepper chicken" into "Prithvi Shaw really likes deep fried beige food."