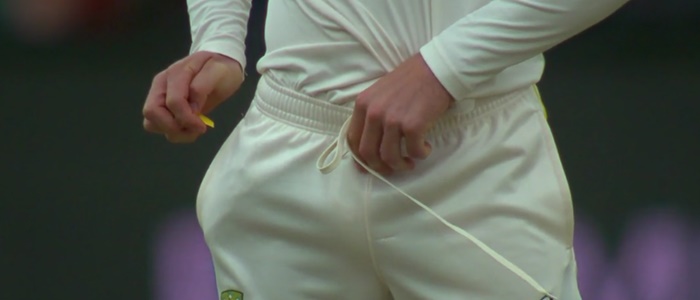 When we first saw Cameron Bancroft tampering with the ball using sandpaper, we thought to ourself: "That is sandpaper" – and so did everyone else.
We were therefore very much surprised when he later claimed that it was not in fact sandpaper but something akin to home-made sandpaper.
"We had a discussion during the break and I saw an opportunity to use some tape, get some granules from rough patches on the wicket to change the ball condition," he explained.
It has since turned out that no, actually it was sandpaper all along because of course it was.
This revelation both made sense and also entirely didn't make sense.
It made sense because the main thing sticky tape sticks to is itself, so it would have been a hell of a feat for Bancroft to keep it in his pocket all flat and rigid like that.
It didn't make sense because why did Bancroft say that it wasn't sandpaper? It was such a pointless distinction it literally didn't even occur to us that it might not be true.
Bancroft and Steve Smith were in that press conference admitting what they'd done. Yet at the same time as coming clean, they also decided that they would tell an outright lie about that one specific detail. How did they hit upon that particular course of action?
Smith: We've been caught in what was clearly a premeditated attempt to alter the condition of the ball using sandpaper. What the hell are we going to do? What shall we say?
Bancroft: Let's mostly confess but then say that we didn't use sandpaper. Let's say it was tape that we sort of made into sandpaper once we were out there on the field of play.
Smith: Yes, that's an excellent idea. That should entirely negate everything we've done and ensure we sidestep any and all criticism.
Seriously, why would you lie about it? The question demands some scrutiny.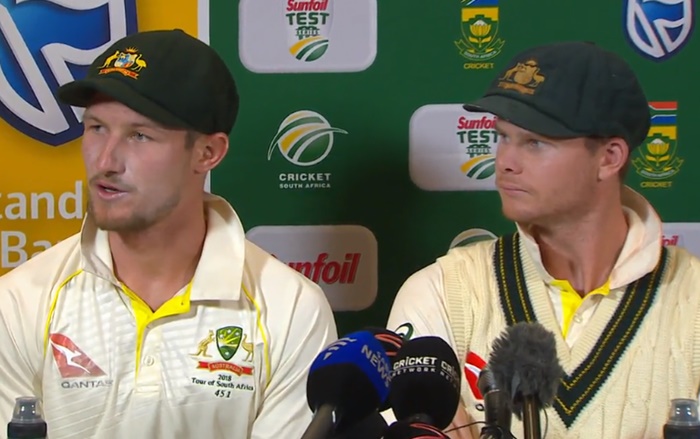 In that initial press conference…
1. Smith and Bancroft admitted ball-tampering. The nature of the material used to carry out the ball-tampering did not negate this, so this cannot be the reason why they decided to lie.
2. Smith and Bancroft admitted planning to tamper with the ball. They said they'd come up with the idea in the break. They weren't claiming this was a spur of the moment thing, so this cannot be the reason why they decided to lie.
3. Smith and Bancroft admitted using something very much akin to sandpaper to tamper with the ball. The primary aim of rubbing the hypothetical sticky tape in dirt was to create a thing with a coarse side which could then be used to rough the surface of the ball – so basically sandpaper. The nature of the thing cannot be the reason why they decided to lie.
4. Smith and Bancroft did not admit to sourcing actual sandpaper. This is the only difference between what happened and what they said happened. It would seem that for Smith and Bancroft the threshold for wrongdoing lies at the very specific point between 'making sandpaper' and 'purchasing or otherwise acquiring sandpaper'.
Conclusion
This no doubt sounds very much ridiculous to you, but it's the nature of 'ball maintenance' that everyone has a slightly different but very precise idea about what is okay and what is not okay.
For example, a lot of people feel that sucking a sweet and then taking the resultant sugary spit from your tongue to shine the ball is okay, but that taking sugary spit directly from a sweet on your tongue and using that to shine the ball is not okay. For these people there is a critical ratio of sugar-to-saliva beyond which you become a massive great cheat.
You will probably have your own opinion about where exactly the threshold lies. That opinion will no doubt be mental.
Darren Lehmann has another opinion again. We don't know what that opinion is, but it is so radically different from Smith and Bancroft's that the poor man has had to resign from his job as Australia coach due to the extraordinary weight of disappointment he is currently feeling.