4
minute read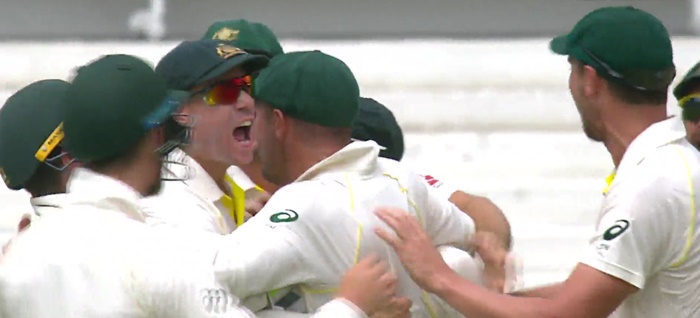 Absolutely the best recent headline about Australia's ball tampering is the one on Fox Sports suggesting that David Warner has 'gone rogue'.
The evidence for David Warner's rogue-going is that (a) he was sitting on his own at one point and (b) he drank Champagne with friends who weren't cricketers.
Based on this, it is hard to avoid the conclusion that we have also gone rogue, because (a) sounds rather lovely while (b) is definitely something we've done at weddings and female birthdays.
What is however stated less explicitly is (c) a general vibe that Warner is distancing himself from the team and is also kind of furious. Unnamed players have warned that there could be an 'incident' (which, admittedly, could just mean that one or two of them want to lamp him) and there's a sense that throughout the tour he's been gradually drifting further and further into Davidwarnerland where David Warner makes the laws and David Warner enforces the laws and everyone else is somehow in the wrong.
If you're reading articles elsewhere today, there's a good chance you'll come across a sentence along the lines of "there's a growing feeling that Warner was the ringleader" and this probably feels fairly credible to you.
Let's bulletpoint the circumstantial evidence.
The third of those is probably the only one that's truly of relevance because we all know there are plenty of arseholes who don't tamper with cricket balls.
Several UK newspapers have run a story that Warner told England players how he used the strapping on his hand to knacker up the surface of the ball a bit during the Ashes.
Here is a picture of Warner's hand during the Port Elizabeth Test (thanks to Darryl for pointing this out to us).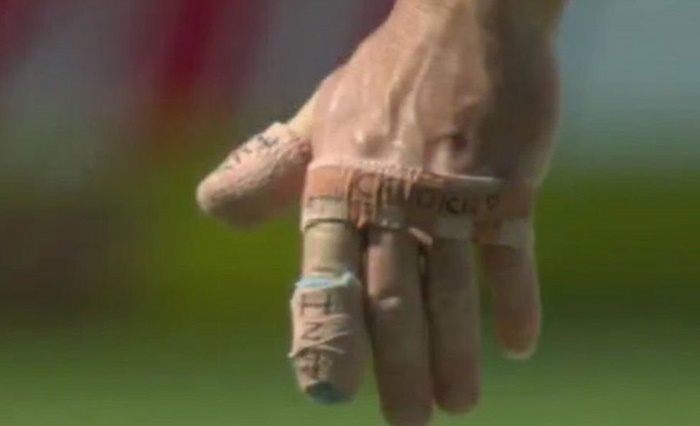 This image raises three important questions in escalating order of importance:
Does David Warner really need that much strapping?
David Warner puts his wife's name on his bandages?
What the hell does it mean that David Warner puts his wife's name on his bandages? That means something, right? There's no way that doesn't say something about their relationship. (His kids' names are also on there, but very much as afterthoughts.)
It's important to point out that Warner is right-handed, so he shouldn't have required assistance writing the names. (Several of you will no doubt feel that he probably did require assistance writing the names anyway.)
There has also been a suggestion that Cameron Bancroft only became Ball Management Guy after a dressing room attendant spotted Warner putting sandpaper in his strapping during the second Test at Port Elizabeth. This claim has the general air of being not enormously true based on the vagueness of the source, but we mention it anyway because you never know. We certainly wouldn't bet big money against it and not just because we already have a lot of outgoings and to do so would therefore be somewhat irresponsible as well as juvenile.
The most compelling case for David Warner as ringleader has been put forward by journalist Geoff Lemon. He thinks Warner's smarter than he's generally given credit for (which, in all honesty, isn't actually all that hard given the public perception of him) but he says he's also prone to wild mood swings and high aggression. Even never having met him, those qualities just seem instantly and 100 per cent believable.
Lemon doesn't think Steve Smith can control Warner and instead just tries to accommodate him. He thinks the South Africa experience has got to Warner and that he's increasingly been driven by what he perceives to be righteous rage. Under a weak captain and an indulgent and protective coach who lacks perspective and self-awareness, you can see how that kind of an attitude might lead Warner towards ever-darker parts of the grey area and incrementally on from there.
An alternative view, which we'll put forward for balance, is that David Warner is a very convenient and beautifully appropriate fall guy.
We were in a police line-up once. It was when we were at university. We can't remember exactly how it came about, but we think that someone from the police came onto the campus and said that they needed young men with short dark hair to make up the numbers. So we went down to the station along with a bunch of other short-dark-haired middle-class students and stood next to a lad from the estate with somewhat longer hair and then the person came in and said it was the lad from the estate and we all got a tenner and went and bought ourselves ten pints.
The point is, take almost any conceivable combination of current Test cricketers, line them up alongside David Warner and then ask people to guess which one's been a dick. Doesn't even matter what the crime is – who are people going to pick? People are going to pick David Warner because he's a dick.
The idea that Australia did something wrong and that Warner was 99 per cent responsible is an easy thing to accept because it just seems so fundamentally plausible.
Warner too will be aware of this. He's spent most of his career feeling like everyone's got it in for him and while there's a dash of paranoia and a soupçon of insecurity in that assessment, it's also pretty much fully accurate and correct.
The man himself, you feel, will have a strong sense of the way the wind is blowing this week and might therefore have concluded that he might as well 'go rogue' before he's officially banished. Why wait?