4
minute read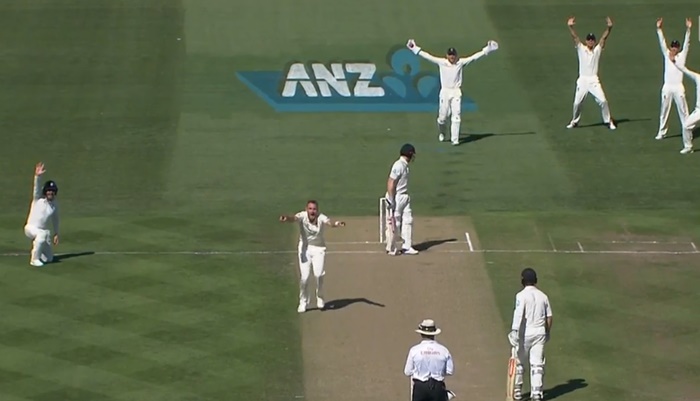 The future's here. The future's even more of Stuart Broad bowling with the new ball. You might think that sounds suspiciously like the past and you'd be right. Sometimes things don't change all that much.
Actually one thing's changed. Whether it's enthusiasm, rhythm, a minor technical tweak or a combination of all three, Broad appears to have recovered some effectiveness.
Between his mostly insipid Ashes performances and now, Broad renounced video analysis and started training on feel and this wilfully primitive approach appears to have proven beneficial. He has regained some pace and just took a bunch of cheap wickets against New Zealand.
Is this resurgence a good thing?
Yes, obviously it's a good thing
England have had precisely one wicket-taking bowler for most of the last year – James Anderson. Broad's resurgence means they now have two. This means there's a good chance they'll lose Tests by much narrower margins when the batting utterly collapses. Losing by much narrower margins is a very legitimate and reasonable goal for England away from home at the minute and one we fully support.
There's also the fact that Stuart Broad is an immensely enjoyable cricketer. Many people hate him, including a surprisingly large number of England supporters, but that isn't the same as not enjoying his presence. Whether you feel affection or not, who doesn't feel a twinge of some emotion or other whenever he appeals? And who would honestly claim that he isn't the most watchable batsman in world cricket?
What's less clear is what this apparent rejuvenation means long-term.
Mark Wood is not Neil Wagner
Wagner has carved out his very own niche as an attritional short-pitched fast-medium bowler. It really shouldn't be a thing, but somehow it's been working for him – not least because it is a role he has committed to in a manner that would put Daniel Day Lewis to shame.
You need someone to bowl 10 overs on the bounce at the batsman's armpit? Neil Wagner will give you 12. Neil Wagner is no dilettante. Neil Wagner is going to pummel that armpit to Hades if the batsman doesn't get bat, gloves or arm consistently in the way.
Wagner gives New Zealand a unique avenue to explore. He is one egg in a very different basket. This load-spreading egg transportation policy is one that England are currently looking to mimic.
Unfortunately, Mark Wood is not Neil Wagner. This is not at all how Mark Wood bowls. While he does have a bouncer, it is not his stock ball and yet the Wagner approach is largely how he has ended up bowling for England upon his return to the side.
Because who else will?
No-one, that's who
Sometimes this is the price you pay for being the quickest bowler. Remember when Broad was England's "enforcer" and how woefully ineffective he was when he had the job?
Wood can, in theory, be sawn, sanded and reshaped, but you do end up with a very different thing after doing all of that, even if it's' still made out of the same raw material. That's all well and good, but what Mark Wood started out as – a fast bowler aware of the existence of the stumps – is a very fine and desirable thing indeed.
Without Full-Pitched Broad, Wood might perhaps get to bowl how he normally would. Without New Ball Broad, maybe Chris Woakes would have taken a few more wickets this winter.
What you are describing is really just displacement – you can't blame Stuart Broad for England's main bowling problem, which is their inability to find a half-decent way to get something out of the Kookaburra ball once the shine's worn off
Yeah, okay, the exact approach of one of England's only two effective bowlers and when he gets to bowl are pretty low on the list of England's concerns at the minute.
However, the very top of that list runs something like this.
Find a middle order batsman
Find a top order batsman
Find any sort of Test cricketer whatsoever because seriously it's been absolutely bloody ages since anyone new secured a place long-term
Point three is where Broad has an impact because new ball bowlers and quick-bowlers-who-pitch-it-up are two things England really should be able to find even when they're otherwise shit at cricket. The fact that Broad and Anderson have rendered both of those  'things the team absolutely does not in the least bit need' for the last however-many-years means that an obvious route into the side has closed.
Seriously, England need to find someone – anyone – soon
Moeen Ali was dropped for this Test. While that doesn't negate all of his many wonderful performances, it does mean that all of the stalwarts in the team started playing international cricket a really, really long time ago.
It's the very nature of stalwartcy (not a word) that such a player is of course likely to have been around a fair while, but at some point teams have to find new players who are going to be solid, regular picks and there is no sign that this is happening. Not one sign. Not anywhere in the team. (Even Dawid Malan's apparent solidity pretty much hinges on other people being slightly worse. He's currently averaging 29.85 in Test cricket.)
When we wrote on this subject in January, we pointed out that Moeen was the man to have most recently become a mainstay. Moeen made his debut in 2014. Hopefully he gets back into the side, because his batting is slightly magical. His absence also means that the player whose name has most recently made the move from pencil to pen is Ben Stokes who debuted in 2013.
Churn
We used to work for a company where we eventually stopped attempting to learn new colleagues' names because they would quite often not last a week because the company was rubbish and dying.
Stuart Broad's resurgence is great and fun and pleasing, but you do feel that England could find a replacement new ball bowler more easily than they could find a middle-order batsman and it would be nice to have at least one newish player in the team whose name might be worth committing to memory.