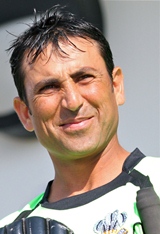 Does. He. Bollocks.
It's the last over of the semi final and everything's at stake. The ball goes out to long-off, Fawad Alam slings it in, hits the stumps and Albie Morkel's run out. South Africa need 16 off three balls and Pakistan have as good as won. Is Younus Khan happy?
No. Younus Khan is busy bawling out the 17-year-old kid he's entrusted with bowling this most crucial of overs and who's been doing a superlative job. He's enraged and he doesn't even acknowledge the wicket. As the team converge on Fawad Alam, he just curses at Mohammad Aamer.
Despite the fact that the run out had been successful, Aamer hadn't been behind the stumps. He didn't do what he should have done and Younus Khan wasn't going to let the simple fact that it didn't actually matter on this occasion stop him from putting Aamer in his place.