Zimbabwe
11
Is MS Dhoni's arm made out of just one super fast-growing bone? We're imagining an ever-extending protuberance that requires regular pruning based on the following from Cricinfo:
"On the eve of the meeting, a BCCI insider revealed that Dhoni was recovering from a "right forearm" injury. By the time the selectors finished the meeting, an aide close to Dhoni said it was a "wrist" injury. Two hours later, BCCI secretary Sanjay Patel told reporters that Dhoni had been advised rest after hurting his "right thumb"."
Dhoni was apparently carrying the injury during the aborted series against the West Indies when it was presumably some sort of shoulder problem.
Bangladesh batsmen
In Chittagong, something very unusual is happening. Bangladesh are making a dominant start to a Test match. They've already won the first two Tests against Zimbabwe and appear to have drawn some confidence from this. At the time of writing, they were 213-0 and both Tamim Iqbal and Imrul Kayes had made hundreds.
We were going to bring you some exciting statistics about Bangladesh partnerships like a proper media outlet, but Statsguru isn't working so we've quickly lost interest. Someone put something in the comments. Make it up if you want.
Battery
Pakistan are still battering New Zealand. It's odd how each of their recent Tests appear to have taken place on two different pitches. You'd think the opposition would object to having to bat on a pitted minefield when Pakistan do all their run-scoring on a complete featherbed.
11 Appeals
8
Faith is what you need when you don't have facts. More accurately, faith is what you resort to when you don't have facts – 'need' isn't the right word. Faith is a way of sticking your head in the sand and even when you're looking for something at the beach, that's rarely a productive pastime.
The pertinent fact regarding Bangladesh is this: most of their players are 24. This explains their miss-and-hit-and-miss Test efforts to some degree, but it increasingly seems to us that not a year goes by without all of their ages going up. Not one year. Not one, single year.
We'll never resort to faith when backing Bangladesh, which is why we've wavered a bit after they lost a Test match to Zimbabwe. The 4-0 one-day series win over New Zealand is still fresh enough in our mind that we'll forgive them this blemish, but it would be good if they could help their own cause a little more.
Sometimes it feels like being a real die-hard fan of a band who you always thought had a lot of promise. You keep going to the gigs, you convince yourself there's still a spark, but eventually you find yourself in Fibbers in York and there's nine people in the audience.
As you're walking into the toilet before the band have gone on, the lead singer walks out and says: "You're not going for a shit are you mate? Only I've pissed all over the seat."
It is at that moment that you finally accept that the promise was only ever a fleeting illusion.
8 Appeals
33
Cricinfo have a headline describing Zimbabwe as 'woeful' after they were bowled out for 162 by New Zealand. However, Bangladesh were bowled out for 58 against West Indies. And they were at home.
Cricinfo's editorial staff really need to get together and establish an adjective hierarchy. Like most people, we rate all events that happen in our life according to the Premier Manager II scale, which runs as follows:
Fair (one to five stars)
Good (one to five stars)
Very Good (one to five stars)
Superb
Outstanding
World Class
Exceptional
The Ultimate
But as you can see, there are obvious flaws in this system. We can go out and have a great meal, musing over our brandy whether it was 'world class' or 'exceptional', but what if we contract dysentry and the waiter punches us in the kidney? 'Fair *' seems rather generous in that situation.
We need an improved scale for evaluating poor performance and if Premier Manager II lets you down, where do you turn?
Maybe people could turn to the comments section of a post on kingcricket.co.uk…
33 Appeals
11
We know you don't like it when we don't have an opinion on something. It's not that we're fence-sitting, it's that in reality we don't have all that many opinions.
We wander through life indecisive and directionless and we've done that since before we went to school. Opinions occasionally find us and those ones usually stick around. When we have to force out an opinion manually – like what we want to be when we grow up, for example – it's really nothing more than an act.
Sometimes on this website we're obliged to take up an official editorial stance. It takes it out of us. Sometimes we've just nothing inside on which to draw. Zimbabwe beat India in a 50-over match for the second game running today. How do we feel about that?
We want India to win Tests and we want them to lose Twenty20s. We're sure about that. What about 50-over matches? Are Zimbabwe plucky underdogs, or are they, you know, Zimbabwe?
We're led to believe that many people form opinions through reading and thinking about stuff, but it's never helped us.
We're going to the pub for lunch tomorrow. There's absolutely no chance we'll be able to decide what to eat. Any suggestions?
11 Appeals
6
We've never seen Vusi Sibanda before today. It's good to see a four-eyed cricketer do well.
'LASIK surgery? LASIK surgery THIS!' he seemed to say, as he deadbatted another full ball. It was pretty plodding as one-day innings go, but if you're Zimbabwe, you make your plans and you stick to them and that's presumably what happened here.
The West Indies have one of the finest one-day batsmen in the world in Chris Gayle and one of the finest batsmen of the last decade or so in Shivnarine Chanderpaul. Zimbabwe have Tatenda Taibu, who's actually very good and Ray Price, who's very, er, effective, but they don't have much else. Where's Charles Coventry these days?
Yet Zimbabwe won. Again.
Sibanda's dismissal was weird. Everyone knows that cricket bats are flimsy these days – like spells of happiness, they're not meant to last – but even so, we can't remember one snapping right across the middle before.
Kemar Roach bowled a quick yorker and suddenly Sibanda's bat became two bats, dividing horizontally, right across the blade.
6 Appeals
4
Zimbabwe's Charles Coventry hit 194 not out against Bangladesh. Zimbabwe lost. This equals the world record individual one-day international score. How do we all feel about that?
The original 194 not out was scored by Saeed Anwar against India 12 years ago. Even in these days of tree-sized bats and four yard boundaries, Anwar's score has still never been bettered. Does Coventry's knock warrant equal billing though? It pushes Viv Richards and Sanath Jayasuriya down a spot in the list of top ODI scores.
It's common for people to effectively disregard Test scores against Bangladesh, but how do you feel about ODI records? Do they count? And does it even matter? Is the game played to establish a list of records or is it played against eleven opponents for victory in that particular match?
We haven't seen him bat, but we're fairly certain that Charles Coventry is a worse batsman than Viv Richards and this record in no way disproves that.
4 Appeals
8
Do you want the better batsman or the better wicketkeeper behind the stumps for your team? That argument's been represented by any number of individual duels over the years. Recently though, we think you'll all agree that the better batsman's been winning out, in general.
Blame Adam Gilchrist. He's a great wicketkeeper, but his batting's so spectacular it easily overshadows that fact. International sides want wicketkeepers who average 50 now, let alone 40. They'll never get it because Gilchrist's a one-off, but it won't stop them trying.
But there might be some hope for the thoroughbred stumpers. Might Twenty20, that impure bastard version of the game, bring wicketkeeping skills to the fore once more?
Here's our rationale – obliterate it in the comments with your usual gusto. How many batsmen do you need in Twenty20 cricket? How many do you really, really need? We reckon five – five specialists at any rate.
Presumably at least one of your five bowlers won't be Tufnell-esque and presumably any eligible keepers are at least half-competent with the bat. If you're serious about winning, then you don't really want to be losing more than five wickets in 20 overs. Things aren't going your way if that happens.
So you can fairly happily pick your best keeper. And you know what – there's an added incentive.
In Twenty20 cricket, with scoring being so low and tight, batsmen get cheeky. It's not totally unknown for them to take a run off a ball which goes straight through to the keeper. They like to jump around as well to disrupt the bowler's line and length, coming down the pitch or batting out of their crease.
So wouldn't it help if you had a keeper who was good enough to stand up to the stumps to fast-medium bowlers? No cheeky byes. No batting out of the crease. The wicketkeeper's having a real impact there.
Twenty20: saviour of the wicketkeeping tradition. There'd be a touch of irony in that.
8 Appeals
1
Zimbabwe have beaten the West Indies. As the result loomed, we were asked whether we were going to paint it as a Zimbabwean improvement or 'the usual'. 'The usual' is of course when we say that if you so much as lose a wicket against Zimbabwe, you're the worst cricketers to represent your nation.
Well, we've had a little look back over Zimbabwe's recent record and we're going to revise our stance ever-so-slightly. Zimbabwe are still more embarrassing than that home video of you trying to look cool at a classmate's tenth birthday party, but they have improved. Slightly.
They beat Australia in the Twenty20 World Cup and you can't really fluke a victory against Australia in any form of the game, no matter what Twenty20-haters might say. Also, in a recent series against South Africa, they consistently passed 200, even though they lost every match.
Passing 200 doesn't sound like much of an achievement, but you forget who we're talking about. This is Zimbabwe, the team that conceded 418-5 in a one-day match against South Africa; the team that against today's opponents this time last year, were bowled out for 85; this is the team that were dismissed for 69 of the most redundant runs in cricket history against the towering might of Kenya.
As for the West Indies, it'll come as no surprise to hear that the bowlers sprayed it every which way and that Shivnarine Chanderpaul hit an unbeaten hundred in defeat. People said that the Windies lost a lot when Lara retired, but what the hell are they going to do when Shiv goes? Shivnarine Chanderpaul is The Balls.
Good links in this post. Saying Zimbabwe are toss brings out the best in us.
1 Appeal
8
Here's a comparison. The Rugby World Cup finished last Saturday. England played in the final. Their next international fixture will be on the second of February.
England's final match in the Cricket World Cup was on the 21st of April, against the West Indies. Their next international fixture, a Test match, also against the West Indies, was on the 17th of May. If by some miracle they'd made the final of the World Cup, it was played on the 28th April.
Okay, so maybe every cricket website you read is repeatedly making this point and maybe every newspaper too, but the fact is we're all right about it. International cricket is no longer special. The word 'everyday' can be synonymous with 'mundane' – the everyday grind; your everyday clothes. Mundane, commonplace, routine, everyday. Cricket is played every day.
Cricketers 'retire' from one-day internationals or Tests in their twenties; players are rested from matches or even tournaments; and international fast bowlers cut their pace to increase their longevity.
The latter's been happening in county cricket for years. It's something county cricket's always been criticised for. 'Too many matches mean that there are no fast bowlers on the county circuit, so young batsmen aren't prepared for Test cricket'.
Well now its relentless fixture list is perfect preparation.
8 Appeals
2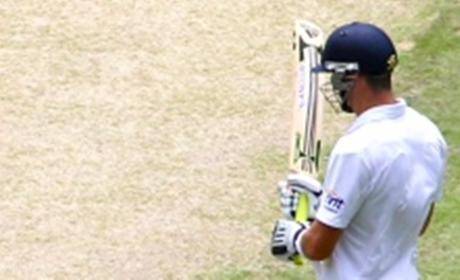 'It' being 'scoring runs against Zimbabwe'.
Despite forgetting that he was right-handed for much of his innings, everyone's most/least favourite bludgeoner hit 79 off 37 balls after England had lost a few early wickets.
England also won by quite a margin, opening up the possibility that they could knock Australia out by not losing too badly to them later today. How very English.
2 Appeals