18
Ian Bell: Lord Megachief of Gold 2011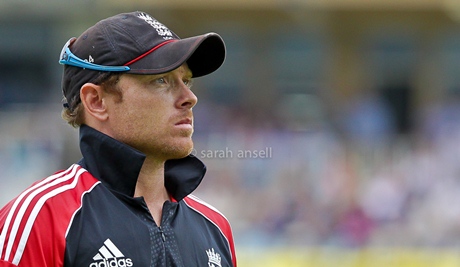 That's right – Ian Bell. Weird but true.
Dale Steyn came pretty close to becoming the second player to earn a promotion to Grand Lord Megachief of Gold, but Ian Bell's year was just too ridiculous to overlook.
Some numbers
11 Test innings, 950 runs, five hundreds, an average of 118.75 and he scored at about four runs an over as well. That's the kind of year that can sway even someone who once made indifference to Ian Bell an official editorial stance.
And we did need some swaying as well. We never wanted to name an English player Lord Megachief of Gold. We didn't want such a respectable award to be sullied by allegations of bias. There shouldn't be any danger of that, considering the above.
Some words
For his first couple of innings of 2011, it was easy to overlook Bell. He hit hundreds in both of them, but they were the usual 'someone else got there first' hundreds.
The first was at Sydney where England won the Ashes. The second was against Sri Lanka and that series saw some selfless batting from the man. As well as that support act hundred, there was a solo effort in the third Test and some feisty declaration batting sandwiched in between. It's that flexibility that elevates Bell above Alastair Cook in our eyes. He is now seemingly a batsman for all situations.
Number three
Ian Bell had always bleated on about being a number three batsman to anyone within earshot while simultaneously making an extraordinarily compelling case that he was anything but that. Put him in the middle order and he scored runs quite happily, but move him to three and suddenly Tim Munton was his batting role model.
Midway through the second Test against India, he got yet another chance at three after Jonathan Trott knacked his shoulder in the field. England had conceded a first innings deficit of 67 and then lost Alastair Cook in the fourth over of their second innings. Bell hit 159 and England won by 319 runs.
Out and in like a fiddler's elbow
Of course the dopey knobhead undermined his efforts to some degree by getting himself temporarily run-out. India's noble decision to allow him to bat on overshadows that innings a bit, so Bell needed to do something else.
In his last Test innings of 2011, he hit 235. England won by an innings. From winning the Ashes to becoming the top-ranked Test side, Ian Bell was there throughout. He has played so well that we now actually give a toss whether he's in the team or not. It's a staggering transformation.
Congratulations, Ian. You are Lord Megachief of Gold 2011.

You really should subscribe to our email updates - here's why
King Cricket T-shirts are actually surprisingly good quality
It doesn't matter how pretty his batting is, he still has so stop getting out in the 30s. Whether or not he's scored 200 before hand is irrelevant.

I wish the standards for a batsman getting this award be really high. Sure, Bell averaged above 100. But you forget the fact that throughout this year he batted on exactly the same conditions – on earth. Wake me up when those pitches on the moon are laid out, and some batsman effectively counters the bounce there to score a quickfire fifty.

Meanwhile I will continue believing Steyn is still Lord Megachief of Gold.

Well said, KC.

And I enjoyed the Tim Munton mention too. The thinking man's 90s throwback.

Rahul?

Bell didn't have to play against England's bowlers. Dravid did, as well as face some tough conditions in the windies, had to bat mostly on his own, and was twatted around with keeping and opening when the side needed it. Still scored more runs than anyone else.
Would have been a worthy winner, but it took him 23 innings to hit five hundreds against Bell's 11. Dravid had a few low points as well as his highs. Bell didn't really.
Bell is a fine choice, for his fantastic 'tough guy pose' photos that adorn the Oval urinals.
Bell had a great year, but I believe that there should be a clause that states the Lord Megachief of Gold cannot act like a pussy when he's run out in a completely fair way.
I was rather hoping to be able to put "that" run out to the very back of my mind for a good many years, KC.
Your award has rather messed up that perfectly reasonable wish.
Shame upon you.
As for your Damascene conversion towards lacking indifference to Ian Bell, I can imagine swathes of protests and angry reaction coming your way. But personally I am indifferent to that change.
We're sleeping a lot more since we started having an opinion on something. It's clearly exhausting us. We wouldn't recommend it.
Wrong, wrong, wrong, wrong, wrong, wrong! That's all I have to say on the matter.
No, wait a minute. That isn't all I've got to say on the matter. The very idea of Lord Megachief of Gold, even though you made it up and so can decide unilaterally what the very idea of it is, is that opponents need to be properly scared of the LMCOG Laureate. Bowlers were scared of Chanderpaul; batsmen were scared of Dale Steyn. Who on earth is scared of Ian Ronald Bell? Even though he averaged 100+ last year, do you really think that opposition captains gee their teams up by telling them they need to focus on combatting Ian Bell? No, they don't. It is in Bell's essence that he isn't even slightly scary. His Warwickshire teammates might consider their team nickname to imply grizzly, or brown, or polar, but in IRB's case it is quite clearly teddy.
Happy New Year, by the way.
I'm not sure about that, Bert. His very nature is unscary. You could say the same thing about Sangakarra. Bell has been a much more potent batsmen since he ditched the faux-aggro.

While I don't think anyone will noticeably quake in the boots about Bell, I reckon he'll keep people awake at night. He's a strangler, not an axe murderer.

These loosely connected thoughts clearly demonstrate that I haven't really woken up this year.
Do you not think you should choose a Kiwi as the Lord Megachief of Gold, KC, before it's…
…you know…
…too late?
You don't seem to consider the possibility that there's a complicatd rating system at work here; one that's of infinite complexity and which offers greater insight than any decision based on mere human perception.
HOW DARE YOU IGNORE SACHIN!!!!!!!! SRT IS GOD & IS GREATEST BATZMAN IN WORLD MORE THAN TINY ENGLISH GINGER!!!!!! etc etc etc……
Re: caption. Hasn't he always been called Ronald?
You're scrutinising the captions now? Is there no escape?

everybody knows the hover captions are the best bit of this website
Look what you did. It's the Lord Megachief of Gold curse.