34
This starts off as a Twitter story, but stick with it because that's merely the setting. The point we're about to make has nothing to do with that.
Firstly, let us just say that we don't make predictions on Twitter. No-one really cares what we think and it's too easy to get drawn into predicting things which are fairly likely anyway. In any given match, someone will get runs and someone will get wickets. Why name names? Keep it for your fantasy league.
However, with India 453-9 and the last pair having been together for two and a half hours, we made an exception. Moeen Ali came on to bowl and we said:
Mark my words, Moeen Ali will take this final wicket.

— King Cricket (@TheKingsTweets) July 10, 2014
That over, Bhuvneshwar Kumar was dismissed.
A lot of people were impressed by this. We even got a 'whoa man!!!' off Pommie Mbangwa.
Pommie spoke for many and there were lottery number jokes and so forth, but to us it wasn't a lucky guess. We thought it was highly likely to happen and that's why we broke our own unwritten rule about making predictions.
Why was the wicket highly likely?
Rhythm.
We play squash. Every now and again, the stars align and both ourself and our opponent have decent fitness and excellent timing and we play the sport like it's meant to be played. At these times, the rallies drag on. When things are going really well, we middle the ball every time, play it exactly where we want to, but neither of us can engineer a winner. It becomes a strategic battle, which is very satisfying. However, these points are almost always resolved in exactly the same way: with a mishit.
It's not that every shot in the rally's the same. It's that you get used to the way the ball moves, whether it's a drive, a drop shot or something played off the side wall. You're in rhythm. Your body's moving into the right position long before the ball arrives and it does so with perfect timing. A mishit plays havoc with this. Your brain simply can't get to grips with the weird, looping trajectory or the non-angle which brings the ball to the middle of the court.
Are you calling Moeen Ali a mishit?
No. It's about bowling diversity and presenting a change of rhythm. Shami and Kumar were starting to look like unmovable top order batsmen, but they're no such thing. It was just that England's sterile monoculture of a bowling attack had allowed them to get into a groove. Bowling changes were no such thing from the batsmen's perspective. They were timing everything.
This is England's problem at the moment. It happened against Sri Lanka and it's happened again. It's not about the quality of the bowlers. It's about the lack of diversity and the more tired the seamers get, the more it becomes a problem.
Here's another prediction: it will happen again.
34 Appeals
22
There's been a fair amount of whinging about the slowness and lowness of the pitch – and not without cause – but it strikes us that really good bowling attacks don't happen across dead pitches very often. England's is not a really good bowling attack.
The point of Test cricket is that you're presented with conditions and a particular situation and you then have to respond to them, no matter what they are. England's bowling attack has actually performed pretty well today. It's just that they've performed pretty well 'considering' – and therein lies the problem. They are able to respond to a relatively narrow span of circumstances and beyond that their limitations become apparent.
On the other hand, it's a five-day Test and a five-Test series. Let's not get too downbeat yet. There'll be plenty of time for that from Lord's onwards.
If there is a man who's had a good day, it's Murali Vijay – or 'Myurali Vijaaaay' as David Lloyd would have it. We had a vague notion that we'd written something insightful about Vijay once, but all that came to mind was a vague sense of approval for the straightness of his bat. A quick Google and we found the piece in question. Pretty much all we said was that we liked the straightness of his bat.
22 Appeals
68
If you don't already know, All Out Cricket magazine do a fantasy league thing. We've entered and set up a mini league. If you want to join and compete against us, it's called The Kingdom and the not-so-secret key to gain access is 'Rob Key'. Our team's called The Courtiers.
The deadline for entry's 10.30am on the morning of the first Test, which is tomorrow. Apologies if you miss out, but we only just registered ourself.
Update: It would be good if you could identify which team is yours in the comments as well. Or just pick a team name which makes it obvious. Or remain anonymous – that's fine too.
68 Appeals
17
People are always saying this. It drives us mental. They say it like it's a fact. Stuart Broad's the latest.
"I think Test wickets should be flat, no doubt, because the crowds want to come and see runs scored."
No we don't. The most boring days we've ever seen have been when batsmen have been piling on the runs on a flat pitch. It's mind-numbing.
Sat in the ground, we have to watch for six hours or more. The more accurately we can predict what the score will be at lunch, tea and at close of play, the duller it is for us. Runs are not remotely a sensible unit of measurement when gauging the value of the 'product'.
People want to see the unpredictable. Test matches need corners.
17 Appeals
12
There is more than one thing to celebrate regarding Andrew Flintoff's return to competitive cricket, but surely this is the greatest. A county match report which doesn't go on and on about how some no-mark is 'pushing for selection' is a rare thing indeed.
Okay, so in this instance the focus is on a somewhat showbiz comeback instead, but it's still a refreshing change. And can anything in county cricket ever truly be considered 'showbiz'?
We're pretty sure we saw Flintoff in the supermarket the other day, but we can't for the life of us work out which aisle it was in. We suspect that it was ready meals, but that would be really weird because we never go down that aisle except as a thoroughfare when either fresh meat or milk and yoghurts is blocked by dawdlers.
12 Appeals
24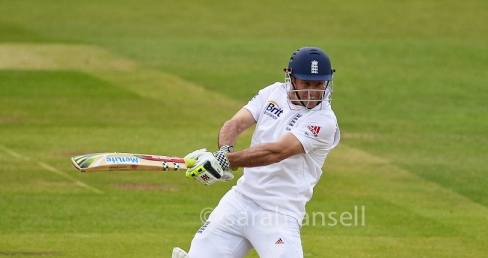 Apparently Andrew Strauss has been caught calling Kevin Pietersen 'the C-word' during a commentary stint. He thought he was off-air, but they were actually still broadcasting in Australia.
Being as this is Strauss, we're presuming that the word used was 'cad'. We're quite taken aback by this. Our guess would have been that he would consider Pietersen a 'bounder' or possibly a 'rogue'.
24 Appeals
11
Can we just remind you that we also write a Tour de France website. The race starts tomorrow and the first three days promise to be 'a big deal' because they're in the UK. Stage two on Sunday is the one we're most looking forward to, but we'll be covering the whole race.
Unsurprisingly, it's not a particularly serious website and we try and write for more casual followers of the race as well as those who are a bit more into it. We're not looking to get all evangelical about bike racing, but if you've an idle interest, hopefully you'll get more out of the Tour if you follow it with us. Or maybe you won't. Maybe you'll just get completely sick of us.
If you're at all interested, please sign up for the email. The email only contains the most recent post, so you don't need to do this, but it makes life easier because it means the articles come to you. Plus there's great swathes of downtime on that site because we rarely feel it necessary to report on Zellik–Galmaarden or the Tour of Limburg. Being signed up to the email therefore means you won't completely forget about us.
11 Appeals
15
Should they pick the batsman who bowls slippery fast-medium (Ben Stokes), the fast-medium bowler who can bat (Chris Jordan), the faster fast-medium bowler who can bat (Liam Plunkett) or the fast-medium bowler who really can bat (Chris Woakes)?
All are good players, but even an eskimo may from time to time find it unnecessary to distinguish between different types of snow. Sometimes it's just snow and it ain't doing a lot.
A mischievous thought – and not an entirely heartfelt one – but might a selector feel a little safer selecting an all-rounder over a specialist, feeling this brought two chances for vindication, not just one. You could consider this the "clearly we picked the right spin bowler – he made a hundred" mentality.
Unarguably, runs and wickets are both important, but taken to the nth degree, would you really expect to win many Test matches with a bowling attack comprised entirely of Andrew Halls?
Perhaps these are the best bowlers available to England, or perhaps we are about to see what you end up with when you place great emphasis on three-dimensional cricketers and 'the all-round package'.
15 Appeals
4
Ged writes:
Over Easter, the Lancastrian nephew-in-law, Escamillo Escapillo (EE) and I schemed to meet up for the Middlesex v Lancashire fixture at Lord's this year, even if we could only manage half-a-day off during the working week.
In the flurry of subsequent e-mails and texts, I said that I could do day three (Tuesday) and he agreed wholeheartedly that the afternoon of the 12th would be splendid.  So we agreed to meet at the Grace Gates at 3.30pm, entirely unaware of our miscommunication.
So, on the Monday afternoon, I was quietly minding my own business when I received a text from EE: "At the gate – where are you?…"
"…elsewhere – we agreed day 3 tuesday, no?  – really sorry – cannot get there today…"
"…and I cannot get there tomorrow, might be good for wednesday though – depends on work"
"yes – should be fine for me – try for that," I texted.
That Monday evening, Daisy remarked that such a diary confusion was a pretty poor show, "coming from two seemingly competent businessmen."  I thought that was a bit rich, given that she and the niece, Lavender, two seemingly competent professional women, are constantly getting their meeting times and locations messed-up.
By good fortune, my working week was, for once, really quite rejiggable. Equally by good fortune, it turned out that we'd have seen little (rain-interrupted) cricket, had we met up on either Monday or Tuesday afternoon. Wednesday, however, was set for glorious weather. By not such good fortune, though, Escamillo texted me on Wednesday morning: "No chance of cricket today – big deal on – see you saturday".
So I wandered over to Lord's on my own with a good book and some journal papers to read. I found a very quiet spot in the pavilion for the morning session. Sky had erected its camera platform on the middle balcony slightly to one side, leaving just a few unwanted seats on the wrong side for this match – north – right beside the Lancashire players' balcony. No-one else would choose to sit there. The book was about the financial/money system and whether alternatives might be better. Given the mess we're in, "better than the current system" seems a fairly low benchmark, so I think the answer is yes, although some of the suggested alternatives were quite daft.
After lunch, when the shade hits even that north side of the pavilion, I wandered around to the Mound Stand to continue my cricket watching and reading there in the sun. I ran into one of the old diehard fans who used to be a regular "Middlesex Till We Die" (MTWD) reader/contributor back in my day. We chatted a bit – agreeing that neither of us have visited MTWD for years. We also chatted about the internet radio commentary, which the nice fellow said he doesn't like much because they chat about all sorts and don't focus enough on the cricket. I thought about recommending the King Cricket match reports to him, but decided against.
I thought about returning to the pavilion as the end drew nigh, but it was so pleasant sitting in the early evening sunshine in the Mound Stand, I decided to stay put and make a speedy exit once stumps were drawn.
Escamillo and I got some serious ribbing from Lavender and Daisy about our temporal mishap, when the young couple came around for dinner shortly after. I tried to get my own back by playing my rendition of And It Stoned Me by Van Morrison on the baritone ukulele, but it must have been a truly beautiful sound because it brought tears to young Lavender's eyes. Escamillo Escapillo suggested that I try some Oasis numbers instead. Typical.
4 Appeals
10
Over the weekend, Cricinfo published an article of ours about the English hatred of 'giving it away' and how it gives rise to a way of batting which is fundamentally unproductive.
It's called Why so passive, England? and it's another angle on the whole proactive batting thing we've been so obsessed with recently. Don't worry, we think we've got it out of our system now. We'll go back to doing whatever it is that we normally do now.
10 Appeals