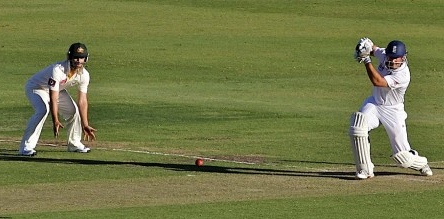 It's the shape of a club with nails sticking out of it and he's clumping towards Australia with it, looking like Daniel Day Lewis in Gangs of New York (although Strauss hasn't got the nauseating stench of an unbearably dull film accompanying him).
It seems such a long, long time ago now, but Andrew Strauss was massively crap for about a year. He then hit a career saving hundred against New Zealand in what had seemed like being his final Test innings. He then hit another hundred against the same opponents shortly afterwards.
At the time, we worried that Strauss was being flattered by his performances against a relatively weak New Zealand side. We were impressed by his resilience at the same time though. When he hit that first hundred, he knew his career was slithering away, but he didn't let that or the fact that he was batting like a half-cut Phil Tufnell stop him. That's grit.
Then he was crap against South Africa and it seemed like maybe he had flattered to deceive after all. But had he balls.
Next thing you know, he's hitting two hundreds in an away Test against India and then hitting hundreds in three successive Tests against the West Indies. Andrew Strauss ruled the winter and he'd barely got going.
It wasn't so much the runs he scored in this Ashes series, it was the fact that he seemed so solid. For precarious match situations to seemingly have such little effect on the captain of the England cricket team is astonishing. To lead the side to Ashes victory after getting levelled in the fourth Test is even more so.
Andrew Strauss is an England captain who's quite comprehensively won us over.