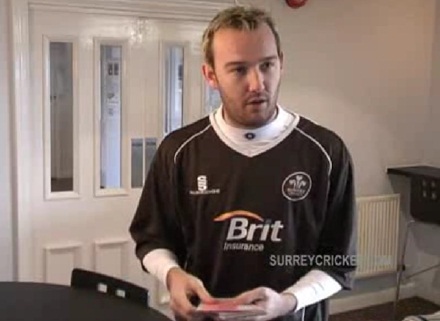 All those who've had the privilege of watching the Lancastrian long-hop machine turn his arm over will be not in the least bit surprised to discover that this magic involves cards and not cricket balls.
There is a video of Chris Schofield doing a magic trick on Surrey's website. It is perhaps unnecessarily long, so we'll talk you through it.
Chris struggles manfully in his attempts to shuffle some novelty, oversized playing cards
Him and some other bloke put the cards on the table in a big, messy pile
Chris separates them into a pile of black and a pile of red without looking at the faces of the cards
Chris comes across as being nicer than we imagined him. Judged solely on looks, he's always struck us as being the kind of person you always see in the pub but who you never want to find yourself talking to.
We were right about his charisma though, we'll say that much.