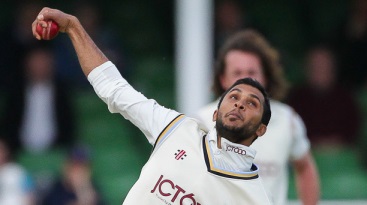 Shortly before Adil Rashid bowled his ninth over in the first one-day international, the 28th of the innings, one of the Sky commentators said that captain Eoin Morgan would be delighted that he had 'got through his overs' by this early point.
That's the kind of banality you'll often hear during a one-day match, but it seems to betray a common (probably English) belief that a spinner is somehow a vulnerability; someone you bowl in the hope that you can get away with it. Presumably you can then revert to your nice, safe, right-arm fast-medium bowlers who have proven so economical in recent years.
In those last two overs, Rashid took three wickets and if the game had been tighter, Morgan would surely have been wishing he could have bowled a few more.
Watching the ball turn sharply one way while lower order batsmen played as if it was going to turn sharply the other way, it was hard not to also think of the many tail-end shellackings England have endured in Test matches. Control is clearly an attribute, but it is only a primary attribute if your approach centres on stifling repetition. If you're instead looking to get people out with magic balls, it becomes secondary to… well, the ability to bowl magic balls.
There's no right and wrong here. Both approaches are valid and each day one will be better than the other – who's to say which? What's important is that people assess players according to the right criteria.
A long hop doesn't undo a wicket, allowing a dismissed batsman to return to the crease. At the very worst, it concedes six runs. In fact in general, as totals increase, a poor ball becomes less and less costly while a wicket becomes more and more valuable.
Excellent control is not an entry requirement any more than the ability to turn the ball both ways is. It's all well and good landing the ball exactly where you want if it doesn't then do something to trouble the batsman.