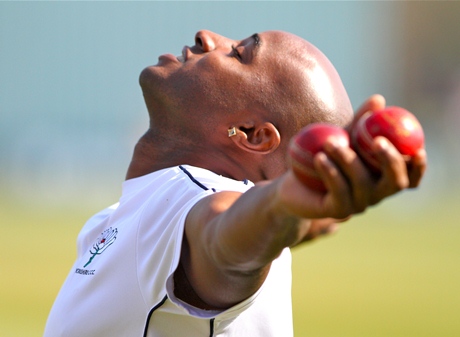 It's very difficult to be both arrogant and likeable, but Tino Best manages it. It's something to do with having just the faintest awareness of how absurd you are – and make no mistake, Tino best is ludicrous. He's like a cartoon character. His answer phone message proclaims him the fastest bowler on the planet.
There's something poetic about Best making the highest Test score by a number 11 batsman against England, because he is best known in this country for being goaded into throwing away his wicket by Andrew Flintoff's famous "watch the windows, Tino" comment from the slips. Tino couldn't get himself out yesterday though. He flailed his fair share of aerial drives, but didn't get out until he was one shot away from a hundred. Number 11! One shot from a hundred!
Long last wicket partnerships are entertaining, then annoying, then wearying, then hilarious, then hilariously joyful. Does anyone not agree that they show cricket at its best? Character and luck, with unlikely heroes triumphing against the odds. We'd go so far as to say this was the purest example of why we love the sport.
You just don't get this kind of thing in other sports (or indeed in other formats) because it's rare that someone is being asked to do something for which they are wholly ill-equipped. Tino Best is an international cricketer, but he is not an international batsman. We basically got the opportunity to watch a rank amateur face elite athletes and succeed.
That's too ludicrous for Hollywood. Fortunately for us, nothing is too ludicrous for Tino la Bertram Best.