3
minute read
Ritesh writes:
It was my last day as a Bangalore resident – I was saying goodbye to the city after calling it home for seven years. It was a time for quiet reflection, for spending quality time with friends and eventually for inebriated celebration. Time, in other words, for a day at the cricket.
Of course, my wife didn't quite see it that way. She wanted to spend the day doing something called "cleaning up". Being unwilling to try something so drastic at this point in my life, I decided to buy the tickets anyway and tell her at the last moment – the old "but now the tickets have been bought" routine.
To my surprise, the routine did not go as planned. I could only put this down to the mysterious and unfathomable female mind, and was left ruminating what women want. I didn't have to ruminate for long – turns out that this woman, at least, wanted a day at the spa on her last day in the city. The exchange was made, the cleaning up successfully ignored, and I set off to watch the game with my two best mates.
It didn't start too well though. First there was the purse/man-bag episode. Now I like to carry myself a huge pair of binoculars in the hope of actually watching the ball swing (I never do). This is the bag in which I carry them: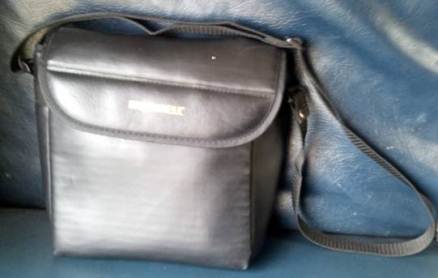 To certain unobservant and sexist people, it may look like a woman's purse, but it is most certainly a very manly accessory, even when slung from the shoulder while getting out of a pimped-up, slightly pink rickshaw. My mates refused to acknowledge the manliness of the bag though and proceeded to crack rather juvenile jokes throughout the day.
On reaching the stadium, D revealed that he did not, in fact, possess a ticket. His plan was to stand outside the stand looking vulnerable and hope that an enterprising ticket tout spots him and offers him a ticket at a wildly inflated price. Unfortunately for him, this was not an IPL match. Even the most industrious of ticket touts would be hard pressed to summon the enthusiasm for what was only the second greatest sports rivalry in the country. So seats went empty in our stand while the critical middlemen decided to take a day off from work. Poor D had to watch the game alone from a different stand, though he waved to us whenever we trained our (very manly) binoculars on him.
That left S and I to enjoy the game from the imaginatively named Pavilion Terrace. The stand just above the pavilion, where we had expected to sit, had been converted to "corporate hospitality boxes" with live television, butler service and what looked like an endless supply of champagne of dubious origin. Of course most boxes were either empty or contained men in toupees and moustaches looking vaguely menacing. The stand next to it, the new Pavilion Terrace, was at a very square fine-leg. So much for watching the ball swing.
That was not our biggest problem though. It was this: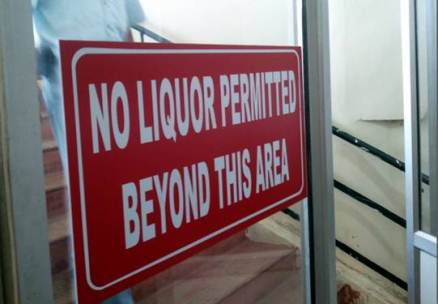 We could drink beer. Or watch cricket. But not both at the same time. I will pause while you recover from that.
Of course that didn't deter several attempts to sneak in beer in coffee cups. If you think of the effort involved – buy coffee in the largest sized cup, drain the coffee, rinse the cup in a dirty stadium bathroom, refill it with beer out of sight of the police – I would let them have a drink for initiative alone.
One man got caught drinking surreptitiously from a coffee cup and this led to an amusing argument about race ("but white people drink beer all the time while watching cricket"), cultural values ("would you like your mother to watch you drink on national television?") and symbols of authority ("just because you have that badge around your neck, you think you can boss me around?").
About an hour after the tea break, I stepped out for some fresh air. Sadly I had neither the foresight nor the eyesight to read the rules of admission written in 6-point font behind my ticket: "Only one re-entry allowed per ticket".
As I stood there vanquished by Indian bureaucracy, arguing with a disinterested policeman the crucial difference between "entry" and "re-entry", a huge roar went up in the stadium. Something had happened and like all things important, I would only realize what in the fullness of time.