2
minute read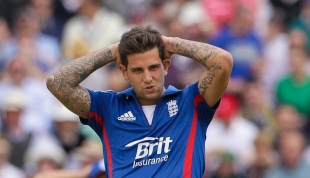 We're not making a point of criticising England's newer bowlers. We're just pointing out that we aren't living in a bounteous land of champagne fountains and gold furniture. Players are being talked about as if they're staggeringly gifted when they're not.
The English treat one-day cricket like some mystical oddity. 'There must be some secret behind 50-over cricket or why else are we so perennially gash at it?' we think to ourselves.
If you conclude that the secret is all to do with reverse sweeps and slower balls, a player like Dernbach can seem like the answer to your prayers. What he does is eye-catching. A 75mph off-cutter slower ball is followed by a 65mph back-of-the-hand slower ball and then a 90mph in-swinging yorker. He's mixing it up. He's keeping the batsman guessing. It's the future of cricket.
And yet is it? Dernbach is clearly a talented bowler, and we're in favour of his playing more one-day cricket, but the notion that England's one-day bowling attack is suddenly built around him just doesn't stack up for us.
Various commentators and pundits were oohing and ahhing about his 'variations' during the one-day series against India. No-one seemed to notice that he took four wickets in as many matches and went at seven an over. Powerplays and rain reductions make that hard to properly analyse, but it ain't earth shattering.
It seems like many focus on the eye-catching headline qualities of Dernbach and don't evaluate the whole article. He's talented and seems to cope okay with nervy situations, but he's a long way from being Malcolm Marshall.