< 1
minute read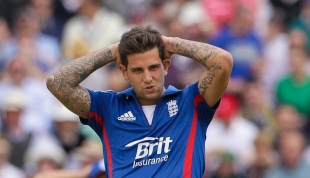 When a sweaty-palmed Jade Dernbach bowled a wide with West Indies needing seven to win off one delivery, it was easy to forget that his opening spell had been sort of all right.
It's not a big thing, but it's definitely progress. Someone seems to have persuaded Dernbach that variations are only such when they vary from something. His first delivery took a wicket, his first over was a maiden, but the real achievement was that those six balls were all roughly the same as each other.
Clearly they're going to keep picking him – there's nothing we can do about it – so we might as well try and support him, at least for the next few weeks. If that means refraining from commenting on embarrassing, dry-humping wicket celebrations which are entirely out of proportion for a dead rubber in a warm-up series, then so be it.