2
minute read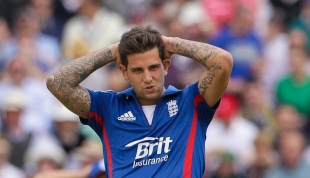 Back when everyone was going mental about Jade Dernbach and his 'variations' we pointed out that he was essentially half a bowler. He did the eye-catching things well, but he was fairly useless at the everyday stuff that's equally important. Shortly after that, we argued that he shouldn't be dropped, even though we still felt the same about him.
We're not quite sure where we stand now. This is largely because people are turning on him and our immediate reaction is therefore to take the exact opposite stance so that we can distance ourself from them. It is never good to be on the same side as 'people'. That's how pretty much all the worst things in history happened.
This is a tricky position to be in, however, because Jade doesn't actually seem to have learnt an enormous amount since last year, which was pretty much our entire reasoning for keeping him in the side. Instead, he seems to have become even more like a human coin toss. Heads is conceding 12 off the over. Tails is a wicket with a back-of-the-hand slower ball. The coin will never land on its edge.
You can't plan with a bowler like that. He's either a secret weapon or a complete liability at any given moment and there's no real way of identifying which. If we could rebrand him 'the last roll of the dice' and bring him on as a substitute when the game was all but lost, that would be ideal. But it doesn't work like that. Pick him and you're committed to at least a few overs. If you're going well, those few overs can undo plenty of good work.
Where do you stand on this? Is he a cad and a bounder and should we beware his dandy ways as we warned all those years ago?