2
minute read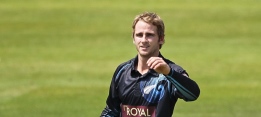 It's a double-post day today. Maybe we're all backed-up after slacking off over Christmas. A few words about New Zealand first and then this afternoon we'll turn to Australia v India, so hold your commenting horses if that's what you want to talk about.
In cycling, there's a thing called the combativity award. It generally goes to the guy who shows the least common sense, who tries to defy logic and experience by cycling 100km on his own when he could save his energy by cruising along in the peloton. He loses the race, but at the end of the day, they give him a wheel of cheese.
New Zealand strike us as being a rather cheese-worthy side these days. There's real fight about them and they don't get disheartened. Where England implode and India strop, New Zealand get stuck in. We saw it most clearly in the UAE where all the runes and tea leaves said they'd get stomped only for them to fight back to draw the series and we've just seen it again against Sri Lanka.
A 135-run first innings deficit is by no means insurmountable, but when you were dispatched for 221 in your first dig and only one guy – a magician, no less – has made more than 69 in the entire match, you can be forgiven for wondering whether you might still be in with a chance of losing by an innings.
But New Zealand aren't here to roll over; they're here to remain the right way up – and so they made 524-5. Kane Williamson's 242 not out takes his average to 46, near as damn it. When you play half your Tests in New Zealand, that's really rather good.