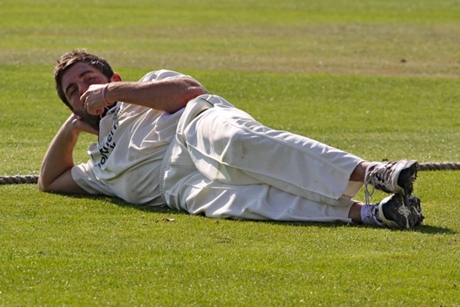 If you read about county cricket much, you'll be familiar with this kind of thing. A player you hadn't thought about a right lot suddenly starts worming his way into every second article, even though he doesn't seem to have done anything especially eyecatching. In May 2014, that person is Liam Plunkett.
His record this season is okay – good even – but it's not spectacular. He has hit 172 runs at 43 and taken 15 wickets at 27.33. So why the big whoop?
It's that age-old obsession – pace. Apparently he's recovered the half a yard he lost and added an additional proportion of a yard which no-one's yet measured. He also seems to be the anti-Shaun Tait in that he can maintain this pace for more than two overs.
We've heard enough positive things from enough different sources to be slightly surprised that Plunkett isn't being given the opportunity to reacquaint himself with the High-Visibility Tabard of Squad Membership worn by one-day international superfluosities. He did get an entirely unnecessary mention when they announced the squad though. Could he be in line for a Test recall?