2
minute read
SW writes:
Here are the animals of the SW household demonstrating considerable indifference to key moments of the T20 World Cup.
First up there is Jasper (aka Fatty McFat). He is technically the neighbour's cat, but they don't feed him and call him Nike so he has rejected this emasculating lifestyle in lieu of the endless food and Sky Sports provided chez SW and just tolerates his array of new names. Recently he was spotted being conspicuously indifferent to Gayle's smiting of the Australian bowling at the Oval.
In the background, Gayle is seen leaving the pitch to rapturous applause, yet McFat is choosing to ignore the joy this spectacle brought to non-Australian hearts, instead indulging in a catnap.
The table is not normally that haphazardly covered with random items. It has been pointed out that perhaps the cat was unaware of the cricket due to the mountain of stuff in his sightline to the telly, however his ears are clearly also pointing away and I can vouch he was very much fast asleep in the style of MCC Man after too much wine at lunch – so deeply asleep you are not sure if they are actually dead.
Secondly, there is 19 year old Silka ignoring Foster's lightning quick reactions for the timely stumping of Yuvraj Singh: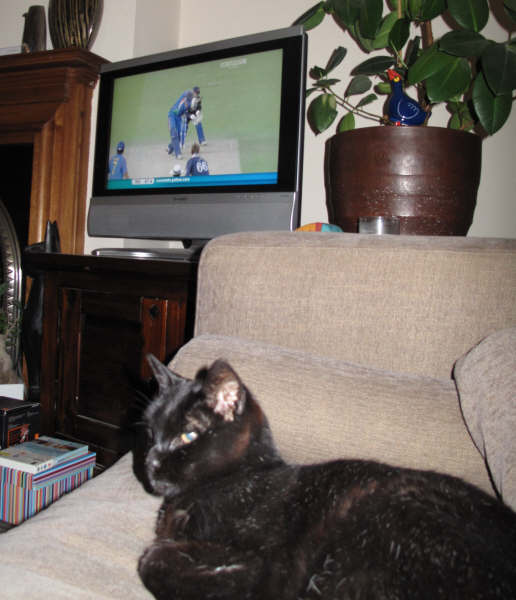 As a Surrey supporter, she's not shown any interest in England wicket keeping since Alec Stewart retired, so this is not a surprise. To be fair, when Geraint Jones was in the team she wouldn't even bother being in the house at all.
Finally, a picture of The Australian showing continued indifference to all T20 matches since the demise of his team: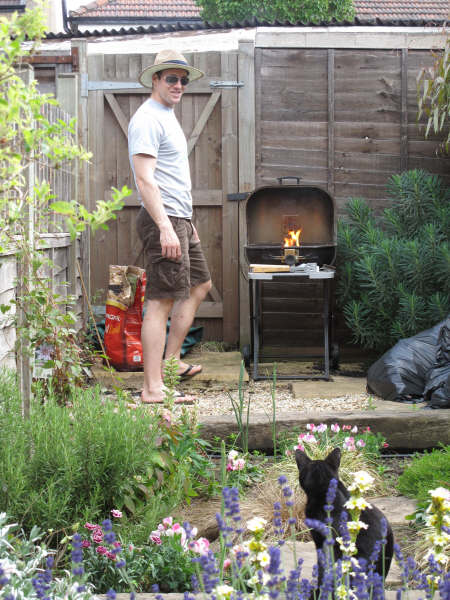 Not only is he ignoring TMS on the radio and Sky on the telly, but he has conspicuously started to demonstrate overtly stereotypical Australian behaviour by preparing the barbie for another shrimp and sporting the Australian national dress of a stupid hat and flipflops. Some would say he was "actively attention seeking". What is most worrying about this photo is that McFat is clearly being sucked in by this Antipodean trickery.