2
minute read
Got this ages ago. Didn't dare ask what 'OnZud' meant in case it was something cool that we should have known. However, we also don't want people to think we haven't done our editing properly, so we're having to draw attention to our ignorance in this opening paragraph anyway.
Jayne writes:
This is Edwin being conspicuously indifferent to the start of the Caribbean T20 final between Trinidad and Tobago and Hampshire.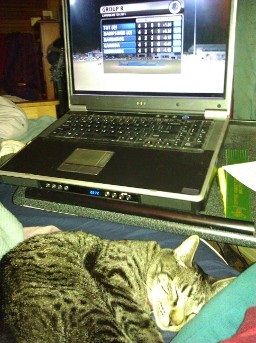 Without a dish, the only way to watch cricket in Florida is online – live, highlights or past matches. ESPN3's current on demand offerings are every match of the Caribbean T20, Bangladesh v OnZud ODIs or Bangladesh v Zimbabwe ODIs. That is it.
I suppose I could have selected Canada v Hampshire, or Combined Campuses and Colleges v Somerset instead, but his reaction would likely have been the same.
Having noticed Edwin had decided to place himself on the cable television box, the 2007 World Cup DVD was placed in the DVD player. You will notice that Edwin was conspicuously indifferent to Saj Mahmood…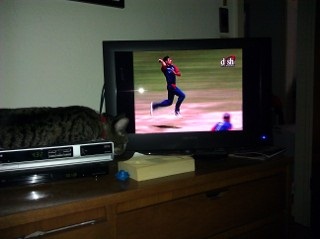 … but displayed more of an interest in Gilchrist and Hayden: