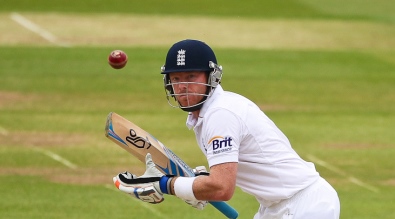 Some read yesterday's post as being criticism of Ian Bell, which wasn't really how it was intended. We just feel that of all the England players, his performances are the ones that most closely correlate with how the team fares. On day five of the third Test against New Zealand, Bell played out of his skin.
Not literally, that would be hideous – although it would doubtless disconcert the bowlers sufficiently that they would struggle with their lines and lengths. No, he just played very well. In fact maybe that's a more appropriately functional phrase for a delightfully, fantastically functional performance. On day five of the third Test against New Zealand, Ian Bell played very well.
Matt Prior is garnering the headlines and we certainly aren't saying that he doesn't deserve them, but Bell's contribution was more sizeable – not in runs maybe, but as treasured fount of wisdom, poet, philosopher and all-round good egg, Bert, once pointed out, runs are not the correct unit of measurement when batting for a draw.
With that in mind, here is an alternative scorecard for England's second innings:
Alastair Cook – 145
Nick Compton – 3
Jonathan Trott – 66
Ian Bell – 271
Steven Finn – 10
Joe Root – 79
Jonny Bairstow – 19
Matt Prior – 182
Stuart Broad – 77
Jimmy Anderson – 2
Monty Panesar – 5
This isn't the first time that Bell's made an enormous contribution towards securing a draw and nor was it the first time he's sidestepped much of his due acclaim through being dismissed before the end of the match. The characters present in the final act are deemed to be the heroes because that's the way conventional narratives work, but who did the bulk of the work?
There's a feeling in cricket that unless a batsman sees it through to the finish he has somehow failed, but that's a rather childish black and white way of looking at a team game. The guy who cuts the ribbon to open a building hasn't built it. Look at the man hours for a true reflection of construction efforts.
Ian Bell put in a four-and-a-half hour shift. That may not be a full working day and he may have been leaning on his bat at the non-striker's end for half of it, but it's probably more than we've ever managed.