Pakistan
12
After losing the first Test to Pakistan, South Africa captain Graeme Smith said:
"It should hurt. But this team has too much ability to make this a habit."
We immediately thought about the distinction between confidence and delusion and how the only real difference is what happens afterwards. These seemed hubristic words, but apparently this South Africa side isn't ready to segue into cocky self-deception just yet.
Or maybe they're just playing Pakistan. Believing you have any impact whatsoever on the outcome of a match against Pakistan could be considered delusional.
Pakistan coach, Dav Whatmore, said of his team's 99 all out in the first innings of this second Test:
"We expected the opposition to come back strong, but I don't think they did. We orchestrated most of our dismissals ourselves."
It's worth noting that last year, at the same venue, Pakistan were bowled out for 99 by England and won the Test by 71 runs. Pakistan never do the same thing twice, so they'll definitely lose this one.
12 Appeals
25
No-one comes here for the clever headlines, right?
As most of you know, Pakistan did indeed win the first Test against South Africa, doing so in typically Pakistani style. Chasing 40 to win, they fell to 7-3. At this point, Misbah-ul-Haq, who continually strives to be the most dour batsmen in the world, hit 28 off 26 balls, finishing things with a six.
The question now is whether Pakistan can somehow engineer a series defeat after going one up with just one Test to play. We reckon they can – which means they won't.
Asked to assess his side's bowling performance, Misbah-ul-Haq said:
"With Pakistan, it's a mental game."
You can decide for yourself which meaning he intended there.
25 Appeals
10
This is the conclusion we've reached. Far from being a see-saw on a roundabout in an earthquake, Pakistan cricket is actually very stable. It's just that different branches of it have to compensate when there's upheaval elsewhere so that the whole remains perfectly balanced.
Last month, Pakistan lost a Test to Zimbabwe. At the time, Zimbabwe weren't even ranked bottom of the Test teams. In fact, they weren't listed because they hadn't played enough matches in recent years. Some people said it was an encouraging performance, but really we all know that it was just Pakistan.
Most teams would have had their confidence dented by something like that. Pakistan barely noticed. Instead, they moved onto a Test series against the best team in the world with complete conviction that they would win and are currently building a large first innings lead.
Meanwhile, their cricket board has been dissolved.
This is the way it works. It's like air trapped under wallpaper. You squash down the chaos bubble in the Test arena and it pops up in administration. We can only assume that during the Zimbabwe defeat, the board was operating smoothly, pausing only to light joss sticks and meditate.
10 Appeals
3
Next Monday sees a proper Test series – Pakistan v South Africa. Well, we say 'proper Test series' but it's actually just two Tests, so not a proper Test series at all really.
The background
Pakistan recently managed to lose a Test against Zimbabwe. For any other nation, this would be indicative of a serious problem; cause for some sort of grandly-titled review at the very least. Pakistan have just sort of looked sheepish and said: "Ooh, that was a bit embarrassing. Where are we playing next?"
They know it was bad, but it won't remotely have an impact on their belief that they can beat the best Test team in the world. Their batting is still bad. Their bowling is still good. They're still equally capable of winning or losing regardless of the opposition. It is also worth mentioning that you can quite easily keep up to date with the latest odds at sites like bwin.com and bet in play throughout the test.
Saeed Ajmal v Dav Whatmore
Saeed Ajmal has been in the news for apparently saying that new Pakistan coach, Dav Whatmore, was pretty much pointless. Personally, we read his quoted words as being a bad translation and that he was just saying that having a foreign coach wasn't necessarily better than having a Pakistani one – a statement which was compounded by his subsequent observation that Dav don't speak da language.
If people really wanted to create a media frenzy over the ambiguity of Ajmal's words, they should have made more of this sentence from his apology afterwards:
"I enjoy very good relations with Dav."
Now that's news. Then again, we already knew that Ajmal's thoughts struggle to make it into English.
South Africa are also playing
Everything's much the same with them. The most exciting news is that Graeme Smith's back, which means that the most exciting news is that everything's back to normal.
3 Appeals
8
In the spirit of being a half-arsed website with no clear direction, we thought we'd bring you the news as gathered by looking at a couple of scorecards on Cricinfo.
First of all, if you haven't seen it before, we can confirm how the internet's foremost cricket website (Cricinfo, not King Cricket) distinguishes between two players who possess exactly the same name.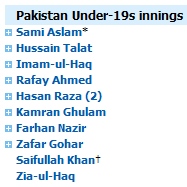 They use a two. Textbook.
On an entirely different scorecard, Yorkshire's Gary Ballance has three digits next to his name in a match against Australia. If you've read any articles about Lions squads this year, you'll get the vibe that Gary Ballance is going to play for the full England side before too long. This probably confirms it.
Was Gary Ballance born in southern Africa? Of course he was. Everyone should be pleased by this. England supporters get a good, solid batsman and those who hate England get to continue plundering a rich library of jokes which has been built up over many years.
8 Appeals
39
South Africa are supposed to be playing the Windies today, then India play Pakistan before England play New Zealand. However, we're away for the weekend with no plans to use the internet, so you're going to have to fill in the gaps yourselves in the comments section.
We're not really in the habit of predicting things because we always anticipate being wrong and if you don't trust your own predictions, why should anyone else? However, if pushed to commit to some sort of opinion, we'd say South Africa's bowling line-up appears to have been put together for Chris Gayle's benefit, so maybe something will happen there should the rain relent.
As for the second match, we've been backing India in this tournament and so should probably stick with that. It's a bizarre match though with a great batting line-up and mediocre bowling line-up pitted against a shoddy batting line-up and fantastic bowling line-up. Only one thing's for certain: one team will reveal themselves as being better than the other one (unless the match is rained off).
England v New Zealand? We're pretty confident that one will be a washout. It's just the way these things work.
39 Appeals
6
This post title policy will come to a crashing halt should England lose to Australia today.
An odd and absorbing match at the Oval, where only Misban-ul-Haq and the Jam Shed managed to score more than six runs in Pakistan's innings. Misbah's 96 not out was exactly the kind of innings he specialises in. Almost exclusively a foulweather batsman, when the going's good, he barely gets started, but when wickets are tumbling, he appears unbeatable.
West Indies innings was a halting affair and they perhaps benefited from having something to aim for. If they'd been setting a target, they could well have been bowled out for far less. Then again, having few runs to defend often seems to focus the minds of Pakistan's bowlers and with a giant, a mystery spinner and a fast bowler in their ranks, they have an intriguing attack.
Saeed Ajmal was Saeed Ajmal; Wahab Riaz may not actually have been bowling at 150km/h as the speedgun indicated, but he was quick; while Mohammad Irfan brings the frisson of excitement that he might at any moment grow weary with the human race and decide to destroy us all.
We don't appear to have mentioned the West Indies much in this update. The team playing against Pakistan always appears somewhat incidental, even when they win the match.
6 Appeals
18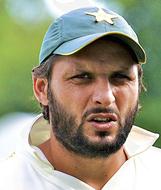 Most of the sentiments have been expressed here before, only because this was for Cricinfo we made the article longer, more rambling and less to the point. We pretty much repeat ourself in every paragraph as well to really drive the non-point home.
That non-point is basically that Shahid Afridi is diminished by Twenty20 cricket. One of the comments then says that Twenty20 was invented for characters like him. We suppose that's not necessarily missing the point. This person might conceivably mean that those who invented Twenty20 were missing the point, which is almost certainly true.
Another comment draws attention to the fact that Afridi's batting has gone to shit since he retired from Tests, which is actually worth mentioning. They also say something intelligent about the benefits of his reputation when it comes to batting in the longest format.
How many Cricinfo comments do you have to read before you happen upon sense? Many, but it can happen. Well played, Stark62.
18 Appeals
26
That is a deeply unsatisfactory title and we'll tell you why – fire and ice are not equal.
No matter how dangerous ice can be, fire is just fundamentally scarier. Talk about fire and it conjures images of blazing infernos. Talk about ice and you think of slipping over and bruising your coccyx.
For the purposes of this article, imagine fire and ice are equally intimidatory because what we're trying to convey is that there's more than one way to reprimand a cat (we've decided to update that idiom for a modern world which has greater respect for animals).
Test cricket is particularly absorbing when teams with contrasting approaches are pitted against each other. It's partly a test of which team is the better, but it also allows us to scrutinise and evaluate different methodologies.
The South African approach is pretty obvious. Their fast bowlers exploit the new ball; their batsmen play sensibly. This is an incredibly effective gameplan in their home conditions, but in the second Test against Pakistan, we are seeing it pitted against something rather different.
The Pakistan approach is far less reliant on the new ball. Their most threatening bowlers are spinners, but on top of that their fast bowlers are generally more adept at reverse swing than the conventional kind.
This Pakistani approach to bowling alters the rhythm of the match and the South African innings will doubtless follow a different pattern to Pakistan's. They may well end up 338 all out as well, but they'll have arrived at that destination via different roads.
Or perhaps they'll score far more than 338. Fire melts ice, after all.
26 Appeals
10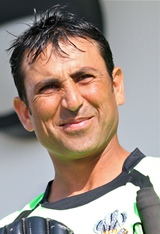 For a man with 21 Test hundreds and an average of over 50 who's also been involved in his fair share of drama, Younus Khan can be surprisingly low profile. That said, your singy, shouty 'look at me' types tend to lack inner steel. Younus is far too busy getting the job done to bother with fripperies like talking or showing any kind of emotion whatsoever.
People often talk about how much they like a certain cricketer 'because he always plays with a smile on his face'.
No. Wrong.
If you're supporting a team, it's actually very reassuring to see that somebody's taking the job really bloody seriously indeed. We don't want to see a batsman aiming a wild swish at a wide one and then grinning sheepishly. We want to see him leaving it alone while sporting a face like thunder. Younus Khan delivers in that regard.
He's also turned a potentially dull South African cakewalk into a Test match and for that he and Asad Shafiq should be thanked. At 33-4, it seemed like a simultaneously spectacular and yawnsome rehash of the first Test, in which Pakistan were bowled out for 49. Instead, we have a cricket match which will hold the interest for a good while yet. Their stand of 219 should also be viewed in light of the fact that when they came together, a repeat humiliation seemed not just likely, but probable.
10 Appeals