Pakistan
5
Same as ever really. Just sort of hope that everything magically works itself out.
Shahid Afridi is a tremendously good one-day bowler, but you'd hope to see a stronger attack alongside him. Seven foot Mohammad Irfan is the novelty, while Junaid Khan is perhaps the class.
But it's the batting that's the real problem. The fact that Afridi isn't significantly less reliable than most of those above him says it all really, because Afridi is literally as unreliable as it is possible to be. If it weren't for the fact that he has 11 international hundreds to his name, you would consider him reliably useless.
So Pakistan's strategy basically boils down to having Misbah-ul-Haq wearily trying to inch them to 150 before making a frighteningly good attempt at defending that.
King Cricket rating: Brendan Gleeson's character in The Guard
Very few traditional heroic qualities, but a faint suspicion that they might somehow do the job anyway.
5 Appeals
15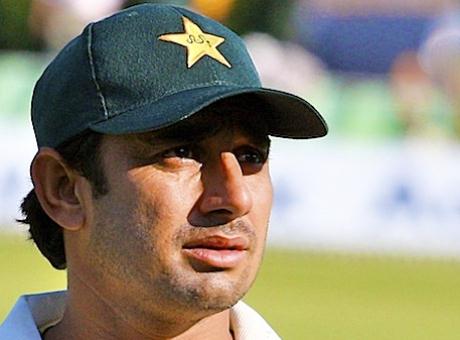 Well this is news. Pakistan's Saeed Ajmal has been banned from bowling.
Ajmal was tested once before and had his action cleared. But not this time. This time he has been found guilty of the greatest crime in cricket.
People will whisper the word whenever he is near and he will have to use the special toilets reserved for his kind whenever he is at a cricket ground. Whenever his name appears in on-screen statistics, it will always be accompanied by an asterisk. This is not to indicate that he was captain. That asterisk says just one thing. People will hiss the words, rather than say them: "Saeed Ajmal was a straightener."
A thousand parallel Ajmal-less universes have opened up to bitter fans of other nations. In ours, an entirely different Pakistan spinner keeps taking five-for-spit against England in the UAE in 2011. Probably a far less likeable one.
15 Appeals
5
We can officially reveal that India v Pakistan in the World T20 wasn't quite interesting enough to prevent keen cricket fans from going out to buy eggs and then out again, a second time, to post something.
To put this in context, we would rank posting letters right up there with opening letters on the list of things we will try and postpone indefinitely. The ideal scenario for us is when we postpone the posting of something for so long that it no longer needs posting and can instead be thrown away. During India v Pakistan, we thought: "Hmm, might as well as post that." But not only that. We then actually did it, which is another step altogether.
It was Pakistan's fault. Quite often they never really get round to starting their innings. You think, after about 10 or 12 overs, that they might begin soon, but then they don't. Next thing you know, they've made 130 and the match is basically over.
5 Appeals
19
Every batsman suffers the ebb and flow of form. Most will alter their approach when out of form, taking fewer risks in the knowledge that they aren't middling it. Shahid Afridi never alters his approach and being as his approach amounts to little more than essaying wild, body-convulsing heaves at pretty much every delivery he faces, form has a sizeable impact on his returns.
Out of form, Shahid Afridi gets out. And he gets out quickly. In form, he scores at almost unimaginable speed. On Sunday, he took his time and hit 34 off 18 balls. Today, he notched a half-century in the same number of deliveries, hitting seven sixes. After nine deliveries, he was on 35, after which he chilled out a bit.
It was the second-fastest 50 in the history of one-day internationals and it was the third time he'd scored one that quickly. He also has one off 19 deliveries, two off 20 deliveries, one off 21 deliveries and one off 22 deliveries.
19 Appeals
8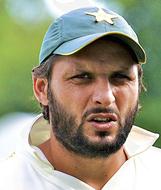 If there is a point to Shahid Afridi – and really, his genius is all about absolute commitment to joyous, unfocused, futile pointlessness – then it is that he should mishit sixes to win matches. That is what happened today.
India and Pakistan have much in common, but they also have their differences – you may even have heard about this. In cricket, the most striking difference is in their respective 'finishers'.
For India, Mahendra Singh Dhoni typically fills this role. Dhoni is one of the finest one-day batsmen of all time and utterly, utterly reliable. In 214 innings, he appears to have learnt everything there is to know about closing out a 50-over innings and he's so cool that anyone else on the field of play is at risk of frostbite and hypothermia.
Pakistan field Shahid Afridi at seven. Afridi is basically one last roll of the dice. These dice have just one side that doesn't say 'wicket' and it says 'six'. In approach, he is as cool as the fires of Hell and in 348 one-day innings, he has learnt precisely nothing. If anything, he has shed knowledge. Certainly, his first innings remains his best.
Today?
"The captain told me to take my time and I did that."
He hit 34 off 18 balls.
8 Appeals
14
Okay, let's do this. Let's write a 200-word article in which we somehow find a new way of emphasising how wonderful the third Test match between Pakistan and Sri Lanka was for readers who already know precisely how wonderful it was and who probably followed the match much more closely than we did anyway.
We'll also shoe-horn in a hilarious joke at our own expense which somehow makes a wider point about cricket with additional implications for wider society. We'll do this off the top of our head during a break at work while trying to block out the world's worst radio station. The first comment will then relate to why we haven't yet covered some earth-shattering news which one of Cricinfo's billion writers has broken during a live transcription of a Mashrafe Mortaza press conference which was supposed to be about the chances of Khulna Division in next year's whatever-the-hell-Bangladesh's-first-class-competition-is-called. The resultant masterpiece – which will obviously be nothing of the sort – will then sit in prime position on a website of almost no significance for a matter of hours before the moron of a writer feels he needs to add something 'fresh', thus pushing the article further down the page, where it will never again be seen by a human.
Alternatively, we could have some sort of tetchy meltdown and one of you can point out that we've actually written 236 words, plus a rubbish headline.
14 Appeals
12
After losing the first Test to Pakistan, South Africa captain Graeme Smith said:
"It should hurt. But this team has too much ability to make this a habit."
We immediately thought about the distinction between confidence and delusion and how the only real difference is what happens afterwards. These seemed hubristic words, but apparently this South Africa side isn't ready to segue into cocky self-deception just yet.
Or maybe they're just playing Pakistan. Believing you have any impact whatsoever on the outcome of a match against Pakistan could be considered delusional.
Pakistan coach, Dav Whatmore, said of his team's 99 all out in the first innings of this second Test:
"We expected the opposition to come back strong, but I don't think they did. We orchestrated most of our dismissals ourselves."
It's worth noting that last year, at the same venue, Pakistan were bowled out for 99 by England and won the Test by 71 runs. Pakistan never do the same thing twice, so they'll definitely lose this one.
12 Appeals
25
No-one comes here for the clever headlines, right?
As most of you know, Pakistan did indeed win the first Test against South Africa, doing so in typically Pakistani style. Chasing 40 to win, they fell to 7-3. At this point, Misbah-ul-Haq, who continually strives to be the most dour batsmen in the world, hit 28 off 26 balls, finishing things with a six.
The question now is whether Pakistan can somehow engineer a series defeat after going one up with just one Test to play. We reckon they can – which means they won't.
Asked to assess his side's bowling performance, Misbah-ul-Haq said:
"With Pakistan, it's a mental game."
You can decide for yourself which meaning he intended there.
25 Appeals
10
This is the conclusion we've reached. Far from being a see-saw on a roundabout in an earthquake, Pakistan cricket is actually very stable. It's just that different branches of it have to compensate when there's upheaval elsewhere so that the whole remains perfectly balanced.
Last month, Pakistan lost a Test to Zimbabwe. At the time, Zimbabwe weren't even ranked bottom of the Test teams. In fact, they weren't listed because they hadn't played enough matches in recent years. Some people said it was an encouraging performance, but really we all know that it was just Pakistan.
Most teams would have had their confidence dented by something like that. Pakistan barely noticed. Instead, they moved onto a Test series against the best team in the world with complete conviction that they would win and are currently building a large first innings lead.
Meanwhile, their cricket board has been dissolved.
This is the way it works. It's like air trapped under wallpaper. You squash down the chaos bubble in the Test arena and it pops up in administration. We can only assume that during the Zimbabwe defeat, the board was operating smoothly, pausing only to light joss sticks and meditate.
10 Appeals
3
Next Monday sees a proper Test series – Pakistan v South Africa. Well, we say 'proper Test series' but it's actually just two Tests, so not a proper Test series at all really.
The background
Pakistan recently managed to lose a Test against Zimbabwe. For any other nation, this would be indicative of a serious problem; cause for some sort of grandly-titled review at the very least. Pakistan have just sort of looked sheepish and said: "Ooh, that was a bit embarrassing. Where are we playing next?"
They know it was bad, but it won't remotely have an impact on their belief that they can beat the best Test team in the world. Their batting is still bad. Their bowling is still good. They're still equally capable of winning or losing regardless of the opposition.
Saeed Ajmal v Dav Whatmore
Saeed Ajmal has been in the news for apparently saying that new Pakistan coach, Dav Whatmore, was pretty much pointless. Personally, we read his quoted words as being a bad translation and that he was just saying that having a foreign coach wasn't necessarily better than having a Pakistani one – a statement which was compounded by his subsequent observation that Dav don't speak da language.
If people really wanted to create a media frenzy over the ambiguity of Ajmal's words, they should have made more of this sentence from his apology afterwards:
"I enjoy very good relations with Dav."
Now that's news. Then again, we already knew that Ajmal's thoughts struggle to make it into English.
South Africa are also playing
Everything's much the same with them. The most exciting news is that Graeme Smith's back, which means that the most exciting news is that everything's back to normal.
3 Appeals