Pakistan
18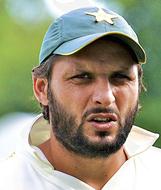 Most of the sentiments have been expressed here before, only because this was for Cricinfo we made the article longer, more rambling and less to the point. We pretty much repeat ourself in every paragraph as well to really drive the non-point home.
That non-point is basically that Shahid Afridi is diminished by Twenty20 cricket. One of the comments then says that Twenty20 was invented for characters like him. We suppose that's not necessarily missing the point. This person might conceivably mean that those who invented Twenty20 were missing the point, which is almost certainly true.
Another comment draws attention to the fact that Afridi's batting has gone to shit since he retired from Tests, which is actually worth mentioning. They also say something intelligent about the benefits of his reputation when it comes to batting in the longest format.
How many Cricinfo comments do you have to read before you happen upon sense? Many, but it can happen. Well played, Stark62.
18 Appeals
26
That is a deeply unsatisfactory title and we'll tell you why – fire and ice are not equal.
No matter how dangerous ice can be, fire is just fundamentally scarier. Talk about fire and it conjures images of blazing infernos. Talk about ice and you think of slipping over and bruising your coccyx.
For the purposes of this article, imagine fire and ice are equally intimidatory because what we're trying to convey is that there's more than one way to reprimand a cat (we've decided to update that idiom for a modern world which has greater respect for animals).
Test cricket is particularly absorbing when teams with contrasting approaches are pitted against each other. It's partly a test of which team is the better, but it also allows us to scrutinise and evaluate different methodologies.
The South African approach is pretty obvious. Their fast bowlers exploit the new ball; their batsmen play sensibly. This is an incredibly effective gameplan in their home conditions, but in the second Test against Pakistan, we are seeing it pitted against something rather different.
The Pakistan approach is far less reliant on the new ball. Their most threatening bowlers are spinners, but on top of that their fast bowlers are generally more adept at reverse swing than the conventional kind.
This Pakistani approach to bowling alters the rhythm of the match and the South African innings will doubtless follow a different pattern to Pakistan's. They may well end up 338 all out as well, but they'll have arrived at that destination via different roads.
Or perhaps they'll score far more than 338. Fire melts ice, after all.
26 Appeals
10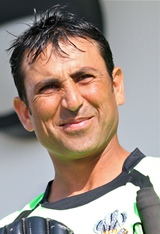 For a man with 21 Test hundreds and an average of over 50 who's also been involved in his fair share of drama, Younus Khan can be surprisingly low profile. That said, your singy, shouty 'look at me' types tend to lack inner steel. Younus is far too busy getting the job done to bother with fripperies like talking or showing any kind of emotion whatsoever.
People often talk about how much they like a certain cricketer 'because he always plays with a smile on his face'.
No. Wrong.
If you're supporting a team, it's actually very reassuring to see that somebody's taking the job really bloody seriously indeed. We don't want to see a batsman aiming a wild swish at a wide one and then grinning sheepishly. We want to see him leaving it alone while sporting a face like thunder. Younus Khan delivers in that regard.
He's also turned a potentially dull South African cakewalk into a Test match and for that he and Asad Shafiq should be thanked. At 33-4, it seemed like a simultaneously spectacular and yawnsome rehash of the first Test, in which Pakistan were bowled out for 49. Instead, we have a cricket match which will hold the interest for a good while yet. Their stand of 219 should also be viewed in light of the fact that when they came together, a repeat humiliation seemed not just likely, but probable.
10 Appeals
3
By going away, not updating the site properly and then doing a half-arsed round-up post on a Monday morning, even though we don't really know what happened because we weren't actually paying any attention.
Pakistan won a one-day series against India
We did actually watch some of this. And by 'watch', we of course mean 'had on in the background while reading about something else on the internet'.
In a three match series, India's highest score was 227-6. Virender Sehwag has been dropped in favour of Cheteshwar Pujara.
Shane Warne and Marlon Samuels managed to draw attention to the Big Bash League
By having some sort of petulant fit at each other. Fingers were pointed. Bats were flung limply into the air in the vague direction of someone. Viewers cringed.
England lost a one-day warm-up match
Ian Bell said it didn't matter. England's last one-day tour of India was only just over a year ago, so he's probably right. If the main fixtures can't retain even a semblance of meaning for much longer than 12 months, the warm-ups have even less relevance.
Apparently, the weather was cold and foggy for the game. That was probably the highlight.
3 Appeals
19
Australia faced two overs of pace bowling during their defeat today. Pakistan captain Mohammad Hafeez saw that it was not broke and therefore declined the opportunity to attempt repairs.
It's interesting how a very specific batting weakness can be exploited in Twenty20. If spin causes some damage, the incoming batsmen are reluctant to strike out against that type of bowling. They feel there's a damn good reason for doing more prolonged reconnaisance. This means it's easy to squeeze in four overs from a part-time bowler, which is of course a full complement.
This wouldn't happen in 50-over cricket. A part-time bowler would bowl those four overs and the batsmen would then have a pretty good idea that what was confronting them was actually pretty femmer. A few lusty blows would end the spells – both magic and bowling
In Twenty20, there isn't really much of a window between having sized up a bowler and his having bowled all his overs. This is bad for batting but great for tactics and can lead to the situation we saw today where 90 per cent of the overs were spin.
Of course, you can only do this if you happen to have five fairly decent spin bowlers knocking around your side. Team selection like that limits most teams to one basket for their eggs, but not Pakistan because they don't always distinguish between batsmen and spin bowlers.
The upshot is that they can tailor their bowling attack even once the match is in progress and an added bonus is that they can set their batting order to 'shuffle' with no ill-effects.
19 Appeals
17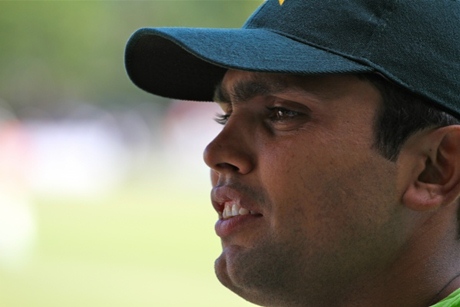 As in 'returned'. He hasn't got ankylosing spondylitis or anything.
Or has he? Actually, that would explain a lot. Lack of core mobility would probably have an impact on catching ability and could potentially give rise to the level of pan-handed buffoonery exhibited by Kamran Akmal.
Actually, on second thoughts, no-one's back's THAT bad.
17 Appeals
11
Samit Patel said of playing Pakistan:
"It would be a great achievement to beat them 4-0 in their own backyard."
Yes, it would, considering you're in the Middle East.
There seems to be an issue defining 'back yard'. Kevin Pietersen used the same term last week.
As a rule of thumb, international team names will point you in the right direction as to what constitutes the opposition's back yard. If you're playing Pakistan, their back yard is Pakistan. If you're playing Australia, their back yard is Australia.
11 Appeals
10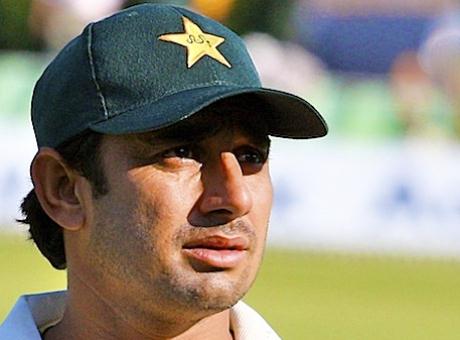 What about Pakistan, eh? Talk about feisty. They've just won a Test match after being bowled out for 99 on the first day. That's exceptional.
Pakistan seem a really hard team. They're not too flashy; not too dynamic with the bat; but they fight like a sack of drunk badgers. They've handed England a beating the equal of the one they themselves received the last time the two teams met.
No hundreds for England
England's scores haven't been quite as low as Pakistan's in that 2010 series, but the batsmen's failures have been perhaps more fascinating. We've actually really enjoyed these Tests, despite the outcome.
To be honest, we'd have welcomed a couple more matches. We'd like to have seen whether England's top order could ever have identified both arse and elbow when a spinner's been bowling. Sadly, the series ends with few high elbows and much high arse.
Have England's batsmen progressed?
England batsmen v spin has been the main story, but it's one that now feels fragmented. Spin challenges in Sri Lanka and India will be similar, but the interest here was in seeing how batsmen adapted when repeatedly confronted by the same bowlers.
A great many people have concluded that the batsmen are simply 'shit'. This is a nice, unequivocal position to take, but misses half the point of Test cricket in our eyes. Compare how the top six have batted in this match with how they batted in the first match and it's clear they've all made changes.
Not one of them has improved enough to be a threat to the opposition, but it would have been interesting to see whether someone could have finally reached three figures were it a longer series. That would have been a triumph in itself. A 4-0 defeat in a five match series would have been a result as well.
We're not delighted that our expectations were lowered to this extent, but sometimes you just have to adapt.
10 Appeals
7
If Azhar Ali knows that speed equals distance over time, it doesn't unduly concern him. This is a batsman who will not be rushed.
With a train to catch in ten minutes' time and the station five minutes from his house, Azhar's sitting in his dressing gown with a cup of tea and he's considering taking a shower.
This was only his second hundred, but he twice got into the nineties before his first one. That said, if Azhar's in the nineties, he's still bloody miles away from a hundred.
He reminds us of James's sister. Several childhood cricket games were marred by her obduracy. Again and again we would explain to her that it was in her interest to hit the ball. She maintained that unless the ball was going to hit the stumps, she didn't have to.
James's sister was wise beyond her years.
7 Appeals
4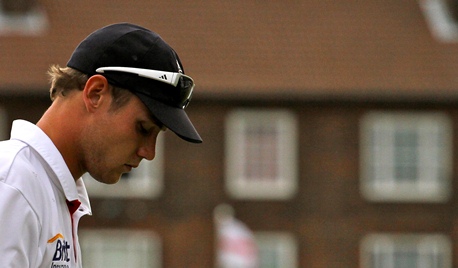 England and Pakistan seem to have swapped identities at some point in the recent past. Pakistan are all obdurate and professional, while England try to make up for their catastrophic batting with ever more spectacular bowling efforts.
There's a limit to what the poor bowlers will be able to achieve though. Bowling Pakistan out for 99 in Dubai today, after losing the toss, might prove to be that limit. Yet the batsmen have still struggled to secure a first innings lead.
When faultless bowling isn't good enough, you can be fairly certain that the team's sailing on poo-infested waters with no means of propulsion.
4 Appeals