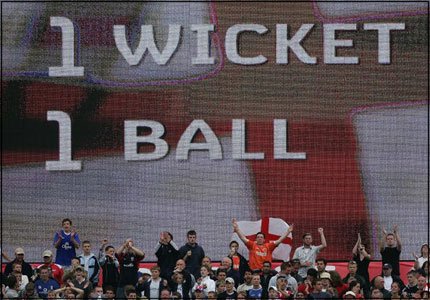 We went to one day of this third Test of the 2005 Ashes series. We went the day it rained. At the time, we lived a couple of stops away on the tram, so we just waited at home until we knew when play was due to start and then headed out. We will never forget what it was like when we arrived.
Play only started at 3pm, but because this series was shaping up well, every single spectator had turned up at 10.30am and waited patiently. We say 'patiently' but perhaps 'thirstily' would be more accurate. It was abundantly clear that everyone was leathered.
People were playing impromptu games of cricket in front of the beer tent even though there were puddles everywhere and hardly anyone could stand up. When the players did come out, it was a weird atmosphere where everyone was ferociously committed to appreciating every minute, largely through shouting at Jason Gillespie.
It was a good job they enjoyed abusing poor Dizzy, because the cricket itself was mostly just Shane Warne scything fours into the offside. As soon as they'd played enough that we couldn't get a full refund, the players went off again, even though the weather hadn't deteriorated one bit.
The magnificent final day began with thousands of people locked out of Old Trafford and ended with England needing one wicket off the final ball. They didn't get that wicket and Australia rejoiced.
"Look at them celebrating a draw," said Michael Vaughan.