4
minute read
In the middle of the Edgbaston Test, we genuinely thought to ourself that cricket had got too good. We actually thought that cricket needed to be worse so that we could appreciate it properly. There was so much brilliant cricket to take in and not enough time to process things.
That was in the MIDDLE of this match. Now think of how it ended. That ending alone would be enough to elevate it to being the best match we've ever seen, but it was shaping up that way anyway.
That the third 2005 Ashes Test was scheduled for a couple of days afterwards did this match a monumental disservice. Back to back Tests should never happen, but they do happen. There'll be two sets of back-to-back Tests in the 2009 Ashes, as if the series is something to be rushed through en route to something better. It's bullshit. Here's why.
Day one
There were so many crucial moments in this summer on which everything else seemed to hinge, but this was a huge one. England had been beaten at Lord's, as usual and the batting had collapsed, as usual. Marcus Trescothick put that right on the opening morning with some searing seat-of-the-pants batting which frightened everyone, including England.
He only just about made it past the lunch break, but by that point he'd hit 90 in 102 balls. The rest of England's batsmen thought: 'Meh, seems to work,' and set about the bowling with frequently rash, but effective gusto.
It was a rare occasion where Kevin Pietersen and Andrew Flintoff batted okay together. Pietersen made 71 off 76 balls. Flintoff made 68 off 62 balls, hitting no fewer than five sixes. Even Steve Harmison made 17 off 11.
Day two
Australia adopted a similar sort of batting approach, only with less risk and less success. All out for 308 before the second new ball, England were batting again by the evening. Flintoff finished the innings with two wickets in two balls.
Day three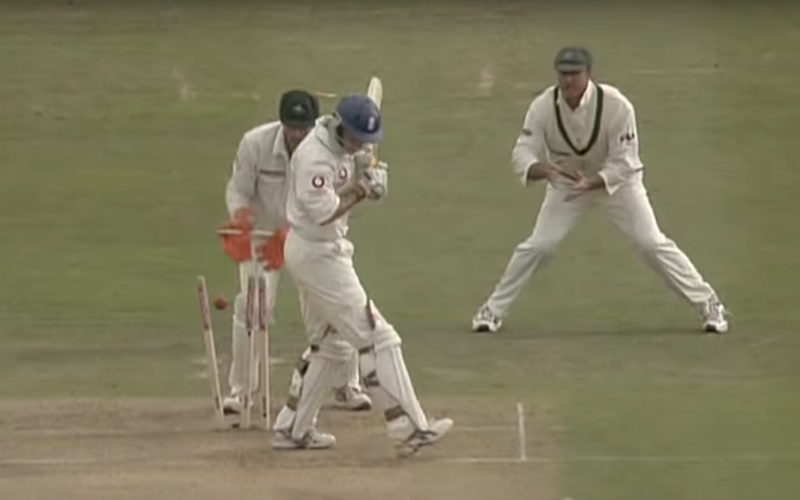 This was when too much happened. Brett Lee and Shane Warne sent England spiralling to 31-4 then 75-6. No matter. Enter Flintoff.
It was counterattack time. We're not entirely sure how much adrenaline is stored in a human body, but Flintoff's body is larger than most and seems to have plenty of room for it. At the point when Australia had all their fielders on the fence and Flintoff was still aiming for sixes, you knew that this wasn't the England of old.
And he wasn't even finished. To crown what must rate as one of the finest days of cricket for a single individual, he then went to town on Australia's top order in his opening over.
The first ball (a hat trick ball) brought no wicket, but that was as long as we had to wait. Justin Langer could only elbow the next delivery into his stumps, allowing Ricky Ponting to endure one of the most torrid overs imaginable.
Repeatedly beaten, Ponting survived two lbw shouts and then edged the final ball to Geraint Jones in an almost inevitable climax to a stupendous over.
Australia folded to 175-8 at the close of play, needing 282 and we all retired to our beds for some rest. We didn't know how much we would need it.
Day four
Where were you? Like all the most important moments in history, everyone knows. We were at mum and dad's, which was just about the perfect place to be, because everyone gave a shit what happened.
We were probably starting to get nervous before Shane Warne managed to tread on his own stumps, but nervousness was about to be redefined, so that this level of nerves barely registered. We move that 'the Edgbaston' be the new unit of measurement for nervousness.
Brett Lee batted brilliantly. He seemed to get hit about a million times, but he just carried on making runs. Mike Kasprowicz did the same. As Australia edged ever closer to their target, you realised why cricket is the greatest sport of all. No scripted drama could ever recreate something like this.
While football might give you five minutes of anxiety and a few shots at goal in that period, cricket can give you an hour of excruciating suffering with every delivery the equivalent of a 'chance'. We paced about, we shouted, we swore – but then there was the release. And the roar.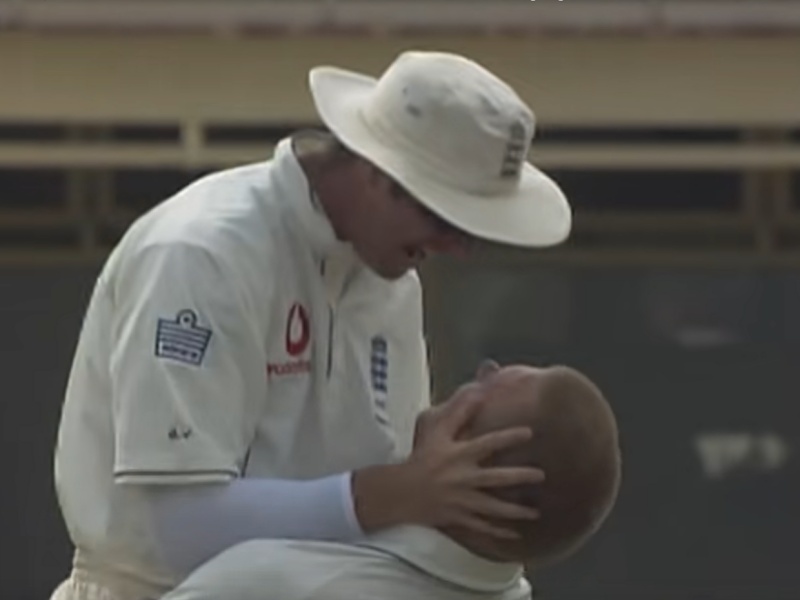 Sport will never top that in our lifetime. Decades of English cricketing defeat and years of Australian victory had all gone into creating that one, perfect moment when Michael Kasprowicz was caught behind with Australia one shot from victory.
Still not quite finished with this match, Flintoff immediately consoled the distraught Brett Lee. This pretty much made us cry (although we were a bit fragile by this point). Flintoff later joked that he'd whispered to him: "That's 1-1, you Aussie bastard."