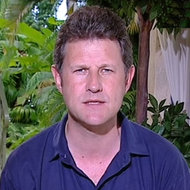 Charles Colville is that nitpicking kind of sports follower who finds fault with everything and believes that minor details decide matches. He's also a reactionary numbnuts.
Colville is Sky's second string presenter. He gets the highlights shows and the non-England matches. He's a public schoolboy with a bizarrely creased brow which is impossible to take your eyes off. They're permanent wrinkles that derive from near-constant scowling, which pretty much sums up the man.
Today's update was inspired by a comment left by Miriam yesterday describing how Colville had made a reference to England's World Cup winners bringing the trophy back in a handbag, which pretty much sums up the man.
Everyone warrants a place on the internet where their inadequacies can be documented. For Colville, this is that page.