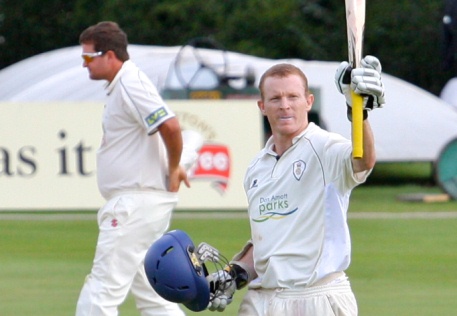 There is a famous oak tree in the middle of a field near Bakewell in Derbyshire. It is weathered and gnarled and its enormous branches reach halfway to the road. Some say it is lucky. Some say it is cursed. The only thing that is known about it for certain is that it was planted there by Chris Rogers during his first season of county cricket, many, many years ago, back when he was in his thirties.
We think we read somewhere this week that Shaun Marsh has only played one first-class innings in England. This is who could be playing, but instead Australia went for Rogers, who has played about a billion. Being as the English season is longer than the Australian one, we wouldn't actually be all that surprised to learn that he had played more cricket over here than in his home country.
Chris Rogers' nickname is Buck. Buck Rogers is a World War I veteran who remains in suspended animation until the 25th Century. When he awakes, he's surprisingly able-bodied considering he's technically 521 years old. Both a namesake and a role model, you suspect.
Steve Smith also made a hundred today.