2
minute read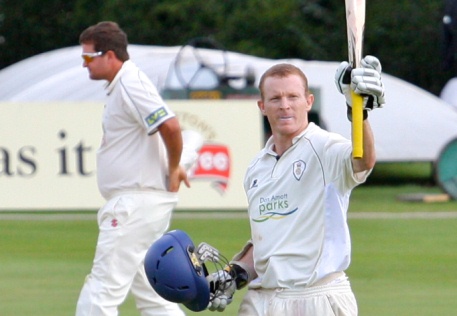 That sounds like a backhanded compliment, but as a right-hander who bats left-handed, Rogers shouldn't see backhand as being necessarily inferior.
Edges
We're not sure we've ever seen a batsman miss and edge the ball quite as much as Chris Rogers did today. It was unreal. You can take it one of two ways. You can say he had more than his fair share of luck or you can acknowledge that it was damn difficult to bat and be impressed at how he did absolutely everything in his power to score some runs.
Some things are simply out of your control, but everything he could control, he did right. Every single thing.
Edgy
Okay, he got a bit skittish when he got near three figures, but you should allow him that. If you heard him interviewed afterwards, you'll have some idea how he must have been feeling. It's been an uncommonly long wait for a first Test hundred and at 35, there's always a chance that any opportunity might be your last.
In the rest of the innings, Rogers did two things particularly well – both of which can be characterised as making the best of things. Making the best of things isn't something people upload to YouTube, but it's a key component of Test match batting.
Gaining an edge
Firstly, he edged the ball well. When he played, he played late and softly and often the ball didn't carry. In conditions where there's a decent chance you're going to edge a few, that's as much as you can do.
Secondly, he didn't give a toss when he had edged it. Next ball, he'd take a single or maybe he'd miss again, but whatever happened, he wasn't making mistakes. It wasn't his fault the ball was going sideways for half the day.
Contrast this with some of Australia's younger batsmen. They edge one, burst into tears and then slap the next delivery straight to mid-on. Not Chris Rogers. Once again, he did the hard bit and today it was particularly hard. It just goes to show that he didn't deserve to end up as a one Test wonder.