2
minute read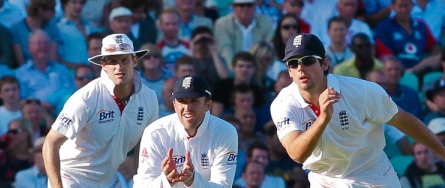 Did they eventually find themselves wedded to one style of play to the exclusion of all else? You could call it the 'batting time and bowling dry' philosophy. It was Plan A and it really did work. But perhaps the more it was successful, the less relevant Plans B, C and D seemed to become. Was flexibility sacrificed one almost-imperceptible step at a time?
An example
Arguably, you could see it in the repeated selection of Tim Bresnan instead of more dynamic alternatives. He's generally a more consistent bowler than any of his rivals, but as his pace has dropped, accuracy and reliability have increasingly become his only real advantages. Picking him over a taller, quicker, less predictable bowler has basically meant putting more and more eggs into the dry bowling basket, removing them from elsewhere.
Perhaps Bresnan could also be seen as being the personification of the narrowing of England's perspective. There was a time when he famously bowled a 'heavy ball' and also delivered reverse swing (which tends to require a bit more pace). However, over time, those qualities have ebbed, leaving someone who basically just bowls to block up an end. Where once he controlled and then attacked when conditions allowed, now he pretty much just delivers the former at all times.
But it's not just Bresnan…
It's the whole approach – and maybe this is where Alastair Cook bears some responsibility. Everyone remembers India's 2011 tour as being some sort of high water mark for emotionless English efficiency, but was this really the way they won series, even back then?
England's intended declaration batting in the first Test of that series was so dire that it seemed likely they were going to leave a tempting target. Five wickets down and 250 ahead, Matt Prior arrived and played a skittering innings full of dicey running. He made a hundred off 120 balls and it contained just five fours and a six. The situation was far from grave, but it was still a knock that was all about simply willing something to happen.
We can't imagine the second Test of that series was meticulously planned to pan out as it did either. England were 124-8 in their first innings, whereupon Stuart Broad and Graeme Swann engaged the long handle. They still conceded a first innings deficit, but a Broad hat-trick got them going and then an Ian Bell hundred in the second innings (batting at three, incidentally) finally allowed Plan A to become relevant.
Up until that point, England were basically winging it and they just don't seem able to do that any more. Even Kevin Pietersen's been blunted through a desire to be seen to be playing responsibly and when that happens, you know summat's up.
In summary
At their best, once England got on top of the opposition, they could become machine-like. However, that wasn't generally how they gained their advantage in the first place. In trying to play controlled cricket even when they're under the cosh, they now seem constrained where they need to be inspired. The kind of cricket you play when you're ahead doesn't always work when you're behind.