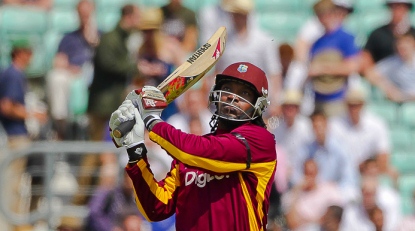 You can call it a preview if you want, but it's more of a disorderly fact-dump.
1. Windies' spinners don't go for owt
Samuel Badree conceded 5.68 runs an over in this tournament. Sulieman Benn's conceded 5.78. Hell, even Chris Gayle's banged out three overs for 17 and we thought he'd retired from bowling a year or so ago.
2. David Willey usually gets a wicket
Usually early on and while it's usually a catch, he hits the pads of right-handers a lot. Johnson Charles should watch out. He probably will be doing though because (a) that's his job and (b) Willey got him for a duck last time they played.
3. Darren Sammy has actually been playing
You may have missed him. He's bowled two overs and faced 11 balls.
4. Liam Plunkett has been England's most economical bowler
True story. He replaced Reece Topley in the team and Topley has been their least economical. Does that mean Plunkett's way better or that the Windies' batsmen Topley had to bowl to are way better? Well that's why they're playing this match – to deduce whether Liam Plunkett or Reece Topley is the better T20 bowler for England. Also for silverware.
5. Chris Gayle hasn't made runs in a while
He made 100 not out last time these two teams met, but since then for one reason or another he's only actually added another nine.
6. India weren't actually all that good
The West Indies may seem terrifying to England fans after brushing India aside, but it's worth pointing out that India weren't actually all that good in this tournament, so of course the West Indies won. India got by with one-and-a-half batsmen and a bit of solid bowling. They got bowled out for 79 chasing 127 against New Zealand and they should have been knocked out by Bangladesh if Bangladesh hadn't been even more hellbent on losing the game than India were.
7. England have basically never been to India before
This cannot help their cause. Hardly any of them had played an international match in India before this tournament. They don't know how to survive there. They don't know that on a cheap hotel menu 'scrumble toast' almost certainly means 'scrambled egg on toast'. They don't know that 'smelinge on toast' is… actually, we're not sure what that was and we didn't dare order it. We suppose there's also a chance that England are staying in plush air-conditioned hotels rather than smelinge-on-toast kinds of establishment.
8. The final's being played at Eden Gardens
Should probably pore through the stats to work out the implications of this. Can't be arsed.