2
minute read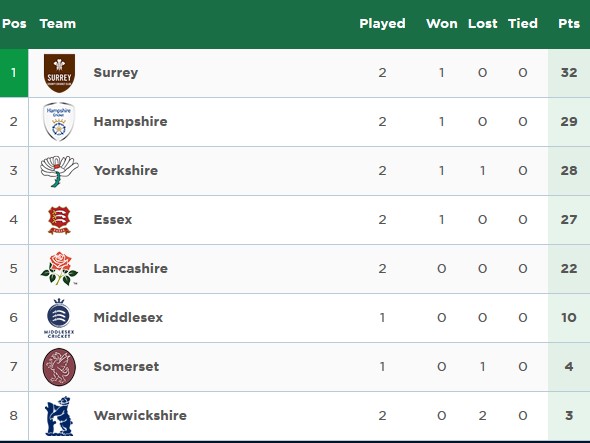 Screen-grabbed Championship table. Ain't you a bunch of lucky basts.
Surrey v Lancashire
Surrey remain top of the table despite not having done anything of consequence. Mark Footitt continued being worth watching by again taking five wickets, Lancashire's Shivnarine Chanderpaul continued being a majestic agglomeration of elbows and knees, and three other players also made hundreds while being far less interesting cricketers. Match drawn.
Hampshire v Middlesex
Middlesex still look well capable of gnarling out a load of runs and so will probably do well this season on that basis. Hampshire performed similarly, but only batted once so maybe they would have folded second innings. Kyle Abbott took a five-for in Middlesex's second innings. He should probably be reserve seamer for South Africa. Match drawn.
Warwickshire v Yorkshire
Did Warwickshire make the most of home advantage? What if the answer's yes? 77-7 in the first innings was, it turns out, a pretty tidy start because they were at one point 54-8 in the second. Ben Coad – which is also the name of a hill in Scotland – took five wickets in each innings for Yorkshire, which is pretty bloody good from anyone. Bres the Bat hit a fifty. Not entirely surprisingly given all of these facts, Yorkshire won.
Somerset v Essex
At some point Essex's wafer thin attack is going to be too knackered to achieve anything. We're adamant about this. However, for now they have The Great Neil Wagner running in hard, hitting the deck hard and taking wickets… hard. Plus they have Alastair Cook unencumbered by anything at all really. You can get a long way in life/cricket with both The Great Neil Wagner and Alastair Cook at your disposal. For their part Somerset have Roelof Van Der Merwe. Somerset lost.