3
minute read
Bert writes:
Some years ago, one of this site's regular correspondents set what I imagine he thought would be an all-time altitude record for match reporting. He claimed that the match was taking place at an altitude (and I quote) of 3,500m.
Now there is something rather strange about this, don't you think? What are the chances of that altitude being exactly 3,500m? Given that there are 100 possible combinations of digits for the final two places, what are the chances of them being zero-zero? In other words, what are the odds of this one thing happening out of 100 chances? I've done some calculating, and I can tell you that the odds are less than one in a billion, which is therefore zero.
What this means is that the reported altitude of 3,500m is almost certainly a rounding (or as it is also known, a lie). Now nobody would round down, so it is virtually certain that the actual altitude was less than 3,500m. Given that there are far more numbers less than, for example, 3,465m than there are between 3,465m and 3,500m, the odds heavily favour the actual altitude being lower than 3,465m.
So, to business. I've just been on my holidays, and I took this photo of Kapil Dev playing cricket at the Jungfraujoch, at an altitude of 3,466m. This is therefore the new altitude record for cricket match reporting on this website. Thank you very much.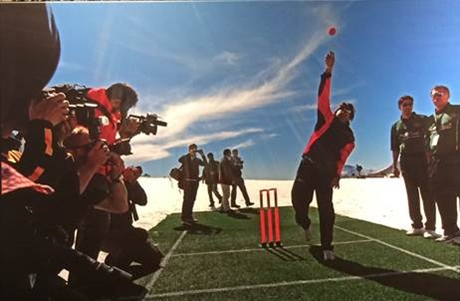 Kapil Dev, being an international captain of much experience, had elected to bowl on a fairly green wicket. In a rather unusual move, he had set a field comprising almost entirely of extremely short mid-ons and mid-offs. John Embury was clearly finding it difficult to find his rhythm with such a field, as can be seen in this photo of him playing a rather flat-footed straight drive when nobody is bowling.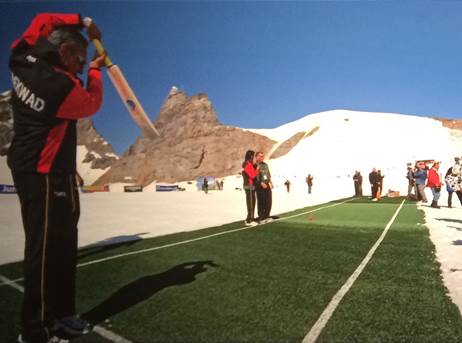 Chris Broad also played, hitting a six onto the glacier at one point. The six-over match was won by one of the teams – the one who scored more runs than the other.
Er, what else can I tell you. Oh, I know, Farokh Engineer was also playing. As were some other people.
Now I know that reporting of actual cricket is frowned upon in these parts, so some of you might have found the last few sentences somewhat disturbing. But never fear, because strictly speaking what I actually took was a photo of a photo of Kapil Dev playing cricket at the Jungfraujoch in August 2009, on a poster in the visitor tunnels. In 2009 I was on holiday in the Lake District, but I would certainly have been following the match closely if I'd known about it. In fact, I do recall having a vague feeling of slight cold one afternoon, which with hindsight can only have been due to a psychic connection with the crowd in the Berner Oberland.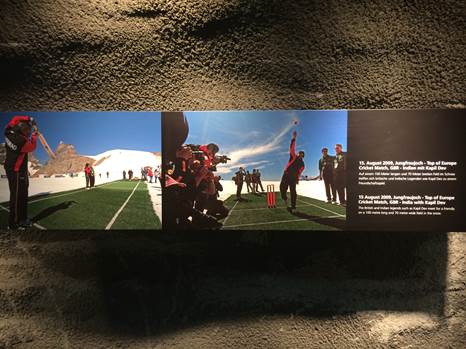 These details in no way invalidate the altitude record, which is mine forever.