2
minute read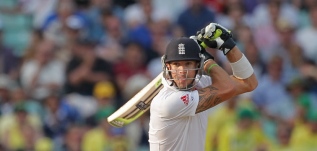 Kevin Pietersen can often look a caricature of a batsman. Look at his leave. When he leaves a ball, Jesus Christ it stays left. The ball really knows it hasn't been hit following KP's huge, flourishing, circular withdrawal of the bat.
Today, Pietersen batted sensibly and in keeping with this exaggerated depiction of the various aspects of batting, it was painfully sensible. It took him 14 balls to manage his standard hairy single to get off the mark. After 43 balls, he had just four runs.
The 49th ball he faced was from Mitchell Johnson and he edged it for four. The 52nd was a bad ball from which he gathered four runs in more deliberate fashion. He hadn't changed gear – at least not deliberately – but maybe he thought he had, because at this point he became a caricature of Kevin Pietersen the domineering freewheeler.
He tried to pull his 53rd ball (still from Johnson) for four and mishit it. It lofted in the air. He was lucky to survive. Unfazed, he drove at his 55th delivery, from Siddle, which was wide and a good length and only threatening if you for some reason chose to try and drive it. It found the edge, but fortunately for Pietersen, the inside edge. To his 59th ball, he spooned a short one and was out.
What an idiot
Apologies for the preceding paragraphs being a bit ball-by-ball, but we're about to make a wider point. Because Pietersen is a caricature, everything he does looks better or worse than his team-mates. However, the thinking and behaviour we can so easily see in him is often there in the other batsmen too – it's just not quite as obvious.
Pietersen was frustrated and when KP's frustrated, he plays the most ludicrous shots. This is not because he gets more frustrated and more irresponsible than the others. It's just that what we call 'ludicrous shots' are just 'shots' to him. You can't have the good ludicrous without the bad ludicrous because the difference between the two is nothing but a matter of timing. It's no different to Alastair Cook either edging or missing a forward defensive stroke.
An arid spell
Pietersen got himself out, but Australia got him to get himself out. For all the talk of Johnson's pace, the home team have bowled dry extremely well this series. It's why batsmen have so often been dismissed when there's been a bowling change. They're looking for an end to the pressure. In fact, they look too hard for an end to the pressure and think they've found it when they haven't.
"Oh good, Lyon's on."
A good bowling attack is an adaptable attack. Bowling dry isn't always the answer. Fierce pace isn't always the answer. Spin isn't always the answer, swing isn't always the answer, seam isn't always the answer. However, the more bases you've got covered, the more consistently you can threaten batsmen – and the more consistently you can threaten them, the harder it is for them to score.
And so the pressure builds.
England ended the second day on 180-4. Ian Bell is on nine off 62 balls.