3
minute read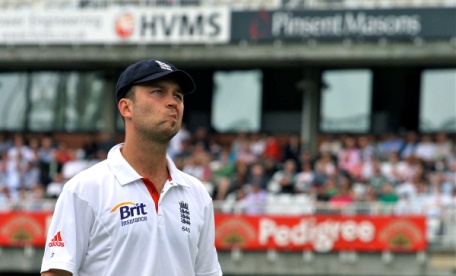 Can we make this 'a thing'? We're pretty sure it's a thing.
The story goes like this: England pick Trott, he scores a hundred and they reclaim the Ashes. He then spends the next four years shielding the middle order so that it – and also the lower order – can cash in against weary, dispirited bowling attacks. At the same time, he gives his own side's seamers nice, long armchair stints. England win quite a lot during this period. Then Trott struggles and England deteriorate. Then he leaves and England lose.
Small things
We mention this because today's play is a good example of how the difference between two teams can widen like the cracks in the Waca pitch as a match progresses. What you see later in the game can be a little deceptive. Despite the tweets appearing on-screen during Sky Sports' daily review show (who sends those?), we're not suddenly seeing a dire England team and nor are we seeing an exceptional Australia team.
We're not saying that England are but a whisker away from winning these matches, but we are saying that Shane Watson is the kind of batsman who'll score a hundred when his team's already 300-and-odd ahead and looking to bat for a declaration against four-fifths of a bowling attack that's absolutely had it.
Australia are the better side in this series, but just as the 3-0 scoreline earlier in the year flattered England, so the individual match results in this series have led to too much opprobrium being heaped upon them. People love to moan – particularly English people – but they should shut up and consider that apparently big changes are often seeded by small things.
So with Trott, England would be winning?
No. We're really just contriving an example in order to instruct overly-emotional Pommie whingers to bring it down a notch or two.
The simplified explanation of Trott's influence that we gave at the start of this article depicts a kind of virtuous domino effect where top order solidity enables middle order consolidation which then permits a profitable lower order payout. You could paint it as being 20 more runs from number three allowing 50 more runs from eight, nine and ten – all with the added benefit that the team's innings is extended in duration, which is great for your bowlers and terrible for those playing for the opposition. It ain't great for their batsmen either, for that matter. Compound this over the course of a series and suddenly you're number one in the world.
But it's not built on much. Matches were won as a result of players cashing in on strong positions and when this happened, those players looked amazing. But those cash-in players have to stand on someone else's shoulders.
Still not getting what this has to do with this terrible England side?
It's not directly linked to the Trott thing. In a sense it's a bad example, precisely because it seems like it should be so pertinent. We're really just pleading for a sense of proportion; saying that although England are getting battered, they probably don't deserve to be pilloried.
England have spent the vast majority of this series batting from behind. You can't write off the second innings performances, but you do have to remember that Australia's second innings have been played in entirely different circumstances. Same pitch, same weather, an entirely different level of pressure.
Australia's bowling has also been tighter than a mouse's ear. England's fans are hugely focused on England's players, but the bad shots you see in the highlights are preceded by a hell of a lot of restraint. Patience isn't a constant quality. It's something which can be eroded.
And England's bowling? It's not been far off. Again, second innings performances are not unimportant, but they are of somewhat diminished importance. You can't ask Jimmy Anderson to be at his best when an Australian declaration is inevitable. He only has so much to give. First innings wise, England's bowlers have been close. They've tended to dismiss the top five or six before running out of steam. It's been a bit like watching a Gladiators contender sprinting for the top of the travelator in the final round. Sometimes the difference between reaching the top and ending up in a heap at the bottom is just a fingertip.
England have been second-best
Let's be clear about this – let's be utterly, utterly clear about this – but can we try and put the emphasis on 'second' rather than considering England to have come last. If nothing else, it's disrespectful to the opposition to make out like only one team has any influence on the outcome of a cricket match.