Marston's have brought out a new beer because they sponsor England. It's called Pedigree Six on account of it being 6%. Mmm, boozy.
We're going to drink four 'Sixes' in honour of Dimitri Mascarenhas's four sixes the other day (and with perhaps a nod towards our own alcohol dependence as well.)
Look!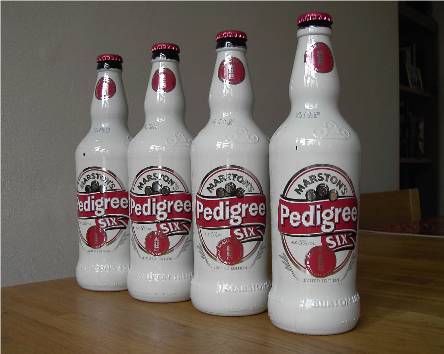 Tomorrow, when we go for our run, it'll be like we're Dimitri Mascarenhas training with England after his four sixes!
Only there won't be any England players, we'll be alone. And it won't feel like we've hit four sixes, it'll feel like we missed a short one and taken it in the head. And it won't be nice and warm, it'll be winter. And we won't be getting paid.
Other than that, it'll be JUST LIKE we're Dimitri Mascarenhas after his four sixes!
We really should become an international cricketer. Look how excited we get.