< 1
minute read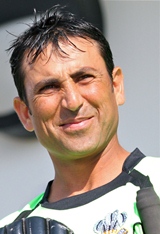 Pakistan. Is there any sporting team in the world for which the link between sound preparation and performance is less meaningful?
Having lost what was arguably the best new ball attack of its time as a result of that spot fixing thing, Pakistan rebuilt their bowling around Saeed Ajmal. Being as he's been banned for chucking, they have now been forced to field an attack where the four main bowlers boast eight Test matches between them.
Needless to say, they're absolutely battering Australia.
Australia's first innings 303 hinted that maybe the pitch was deteriorating. Pakistan's second innings 286-2 rebuffed that. Pakistan's batting has been dire for the last few years but it has just managed 700-odd runs for the loss of 12 wickets.
Younus Khan has spent most of the build-up to this series maintaining a gold standard strop about being dropped from the one-day side.
"Don't select me, not even in Tests – I sacrifice my future," he said a couple of weeks ago. Today he scored his second hundred of the match.
Australia are currently 59-4 chasing 438 and will almost certainly win.