2
minute read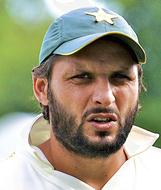 You need two runs a ball. Who do you want at the crease?
Of course only one nation are lucky/unfortunate enough to have the unusual, though not inconsiderable, talents of Shahid Afridi at their disposal: Pakistan.
Midway through this match, we were thinking to ourself that this Pakistan side aren't what they used to be. Their bowling lacks dynamism for the most part and there are still a number of batsmen whose greatest attribute is 'promise'. Old Pakistan sides could win (or lose) from just about any position. This one seems almost predictable.
No, no, no. This is Pakistan. There's a state of emergency back home, opposition party leaders are being arrested, Imran Khan had to jump over a wall to escape policemen and the Pakistani cricket team are carrying out the ninth-highest one-day international run-chase of all time.
Younis Khan got the bulk of the runs, 117 off 110 balls. It was only his third one-day international hundred in 157 matches, an astoundingly poor return for such a gifted strokemaker. With Inzamam-ul-Haq gone, Younis needs to sort out his act and maybe he started today.
Pakistan were always behind the rate though and runs needed to be scored quicker and quicker. Misbah Cricket (we're never going to use that again) picked up the rate with 49 off 44 balls and then Shahid Afridi came out and he HAD to score quickly.
Considering that the whole point of Shahid Afridi (not just as a cricketer – as a man) is to score runs ludicrously quickly, he's been in the position where it's actually called-for astoundingly rarely. Now he was in that position and he did the job. Three consecutive fours off Zaheer Khan got the rate down and then a six in the penultimate over all but settled it.