2
minute read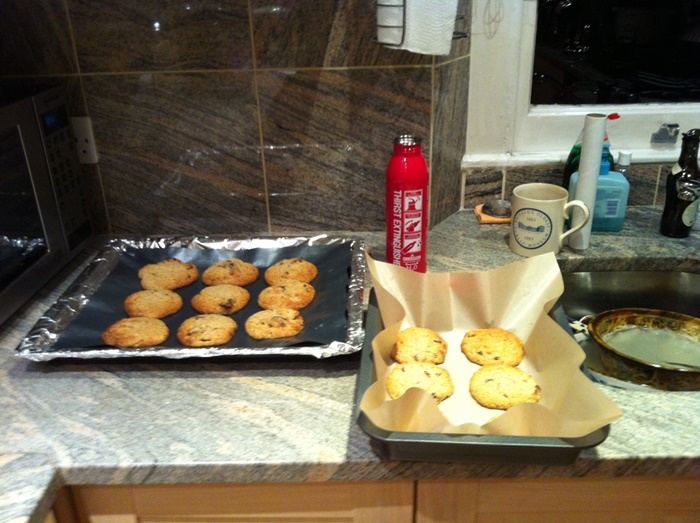 You may or may not remember the Lord's Throdkin. If you do, you will be very excited to hear that there has been a development…
Ged writes:
Lancastrian nephew-in-law Escamillo Escapillo is partial to my Lord's Throdkin cookies.  I was to spend the first of three days at Lord's watching the West Indies test with Escamillo, so it seemed an ideal week to bake a batch.
I decided to vary the original recipe a little this time around, using an extra 30% of every ingredient except the sweet ones, plus the use of two eggs rather than one.
The reduced sweetness proved non-controversial, but the extra egg meant that the new version didn't spread and flatten, resulting in a more dough-ball type cookie than the original biscuit-type cookie (depicted).
Escamillo voted the new version better; more true to the gloopiness of real throdkin. I agreed, but Daisy was adamant that the more biscuit-like texture of the original recipe is more appealing.
I wrote to Iain Spellright, summarising the dispute and concluding, "…you are the only person in the world who is not a member of our family and yet has tasted both varieties of my throdkin cookies.  No pressure, but could you please provide some independent judgement on this vital matter for us?"
Iain wrote back: "I am with Daisy on this…my impression is that last year's version had more 'bite' to them. The taste of the bacon seemed more startling in what the mind said was a biscuit. The 'porridge' version seemed less compelling to me…"
When I related the result to Escamillo at the Middlesex v Lancashire match, he merely said: "Southerner, Iain Spellright, isn't he? You need to get Big Al DeLarge to try the new throdkin cookies and provide an expert opinion on the subject. He's Lancastrian and cheffy."
I pointed out that Big Al has now gone ever such a long way south (Sydney) and is bound to have gone soft in transit. Further, I suggested that the throdkin cookies might also denature on the journey to Australia if I were to send samples to Al.
Escamillo and I then debated whether the changing character of the cookies in long-distance transit would make the experiment Schrodinger's cat-like or not, proving that grown men can talk pseudo-intellectual bollocks at cricket matches hours before they even think of having a drink.
Strangely, Escamillo didn't suggest employing King Cricket himself as the ultimate arbiter of this throdkin dispute, but perhaps that will be the only way.