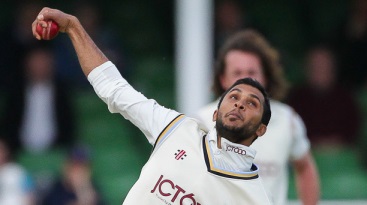 As in 'returned'. He hasn't got ankylosing spondylitis or anything.
Is Adil Rashid a bowler who can take wickets when others cannot? Yeah, probably. Sometimes.
Does Adil Rashid's selection for the Test squad having previously jacked in red ball cricket maybe raise a couple of awkward questions? Erm, yeah, probably. But let's focus on the wickets, eh?
What was the point of that red ball retirement?
Earlier this year, Adil Rashid supposedly gave up first-class cricket to become a white ball specialist. A major reason why he did this was because he suspected that he was not going to play Test cricket under England's current captain.
Rashid didn't think this for no reason. He'd been England's first-choice spinner for the tour of India and while he didn't perform spectacularly, he did better than everyone else and well enough that he'd have expected to retain his place. Instead he was dropped. Double-dropped even.
England picked Mason Crane as their second spinner on the Ashes tour, even though it was clear to everyone that he was never actually going to play.
Rashid thought about this and he thought about how he could make an unarguable case for reselection bowling leg-spin in the County Championship. With half the matches played in April and May and England clearly not much interested in picking him for Tests, he concluded that he'd be pissing in the wind.
We're not sure whether you've ever tried pissing in the wind, but honestly, there's little to be gained from it. More often than not you'll end up thinking that you never should have commenced the piss in the first place. Rashid therefore binned red ball cricket to focus on his England career. It's worth noting that he subsequently played very well.
Worked out well though, didn't it?
Who knows what happens next, but thanks to a change in selection policy and good form in limited overs cricket, Adil Rashid has won back his place in England's Test squad.
When Jos Buttler came back into the Test team off the back of his IPL returns, he said that it wasn't a question of playing the right format.  He pointed out that in an alternate universe, maybe he'd have made five first-class hundreds for Lancashire and won his place back that way.
That's true, but the same doesn't hold for Rashid. The chances of a leggie tearing it up in the Championship on damp seamers is nil because no matter what form he'd been in, he simply wouldn't have been given the ball. He'd have been lucky to get three overs. He might not even have been picked.
Conclusion
Plenty of people will moan about Adil Rashid's return, but it's hard to envisage any other way he could have won his place back.
Good luck to him.