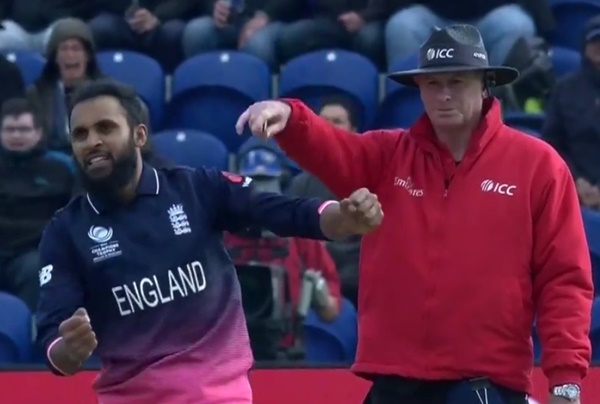 Because he's pressed for time.
Adil Rashid has signed a white-ball only contract with Yorkshire for the 2018 season. Some will say he's looking to become a short format specialist because it'll allow him to buy a bigger car or house or whatever, but that's missing the point.
The point is that Rashid is not going to play Test cricket under England's current captain. He is however going to play 20- and 50-over cricket under Eoin Morgan and so the 2019 World Cup is his overwhelming focus.
There is only so much time to hone his one-day game before then and adequate rest is likely to prove far more important than fiddling around with a red ball, bowling in a different way to different fields.
The margins are fine in international cricket. A player with 100 per cent focus on a particular goal is likely to do better than one with 90 per cent focus on it.
It's not greed. It's professionalism. We spelled it out with Mark Wood as the example last week. The IPL and England one-dayers take precedence over first-class cricket for anyone likely to make England's 2019 World Cup squad.
Another example
This month's Wisden Cricket Monthly features an interview with Jason Roy in which he says he's "ready" to play Test cricket.
He's wrong, but only in the sense that you can only really perfect something if you actually practise it. Seven first-class innings between September 2016 and July 2018 will not amount to much practice.
Given a bit more experience, a bit more game-time, a few more hours instilling the decision-making that is such a key part of long format batting, Roy would surely make the grade as a Test cricketer.
So would Jos Buttler. So would Alex Hales. All those who dismiss these players as one-day specialists miss what they could become were they playing in a different environment.
The ECB doesn't care
The ECB doesn't give a shit. The England and Wales Cricket Board is happy to sacrifice these players' long format opportunities because it means they'll be fully-focused on the 2019 World Cup and the 2019 World Cup is The Big Thing right now. Everything else is secondary.
As far as the ECB's concerned, the players are just 'human resources'. If you play for England's 50-over side and you want a more diverse career, you're going to have to find a way of fighting for that yourself – but don't come crying to the ECB if someone wholly committed to one-day cricket leapfrogs you.
This is modern cricket
The weighting towards short format cricket is particularly acute in England right now due to the home World Cup looming on the horizon, but this is still the fundamental situation throughout the world at all times. The fixture list is sufficiently congested that tough decisions have to be made and nine times out of ten first-class cricket will come out on the wrong side. A major consequence of that is that Test cricket also loses out.
Many will feel that nations are still putting out their best Test teams, but they are only putting out what's best when viewed from a single moment in time when many of the country's most talented players have already been reluctantly siphoned off into mono- or bi-format careers.
The benefit of first-class cricket for short format 'specialists'
As a slightly less bleak conclusion to this article, we'd like to put forward a notion that could see the odd high profile cricketer actively seek out first-class cricket to improve their game. That notion is base training.
Four-day cricket offers a lot of game time. It offers hours at the crease and overs bowled and surely helps players groove their game in a less pressured environment. In that Wisden Cricket Monthly article, Roy says that his few games for Surrey last year helped him regain rhythm. Perhaps left to lash out in short format purgatory, that rhythm never would have returned.
It's sometimes said that there are three main variables involved in training. The first two – frequency and intensity – are easy enough to find in short format cricket. Who knows, Adil Rashid may find himself wanting when it comes to the third one – volume.